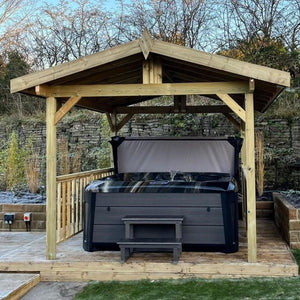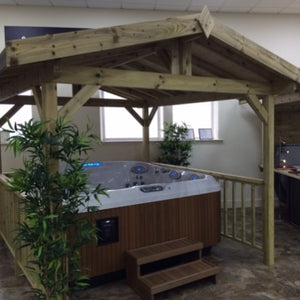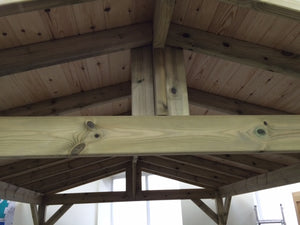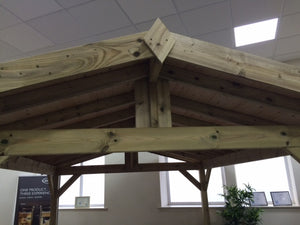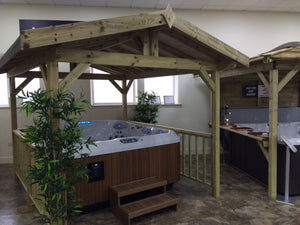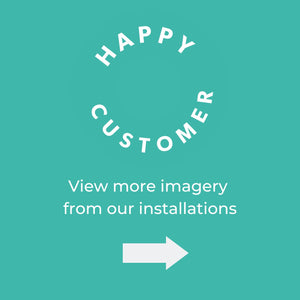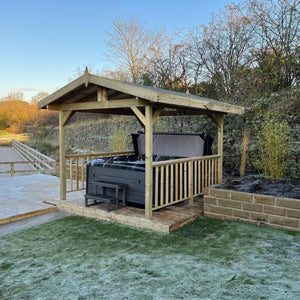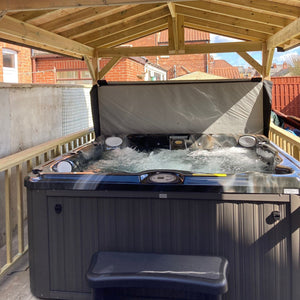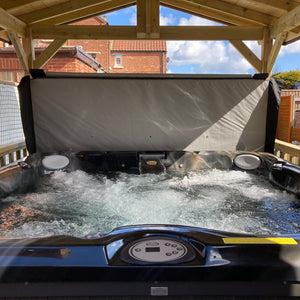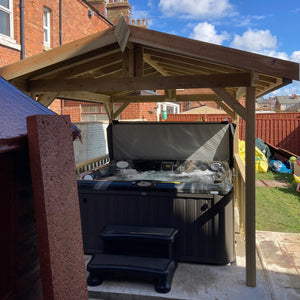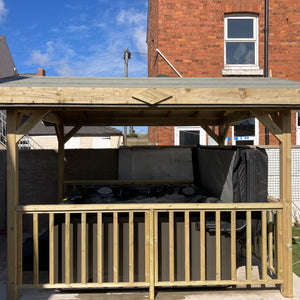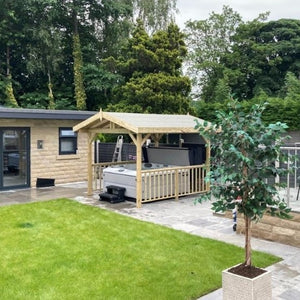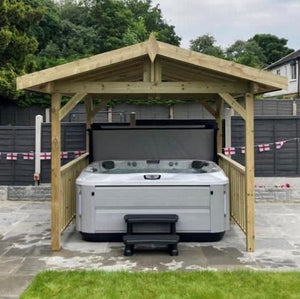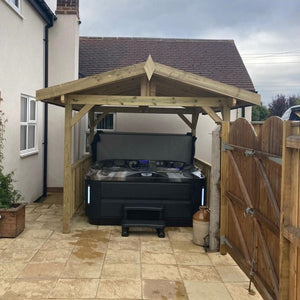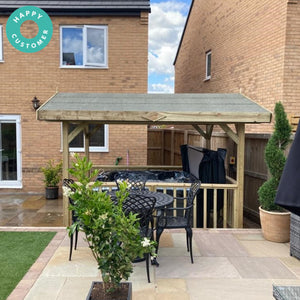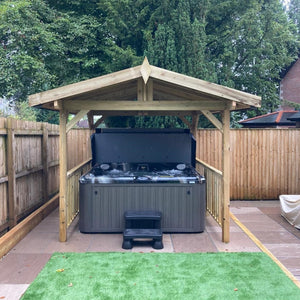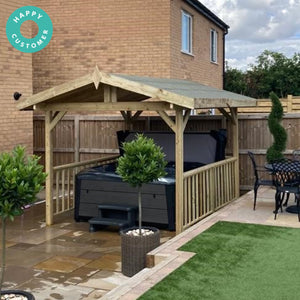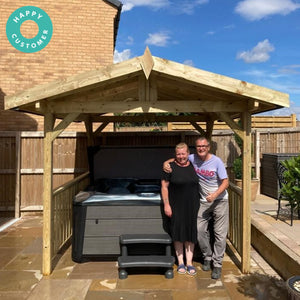 Apex Wooden Hot Tub Gazebo with Roof
Features we love
Structured wooden gazebo with roof and side panels
Made from high quality tanalized pine with a decorative felt roof
Protects your hot tub from the elements
Provides privacy in your garden
Fits standard size 213cm x 213cm hot tubs 
Tech spec
Fit hot tubs up to: 213cm x 213cm
Roof size: 315cm x 365cm
Tanalized pine
Side panels
Fully covered back
Wooden roof
90 day guarantee
All about me
Our Apex Hot Tub Gazebo is made from high quality tanalized pine with a decorative felt roof and side panels. This hot tub enclosure is designed to provide shelter for spas up to 213cm x 213cm, including the steps.
This wooden gazebo will blend seamlessly into your garden, while providing privacy from neighbours while you soak in your tub. Your hot tub will also get protection from sunshine, wind and rain, prolonging its life and saving you money.
Pricing
Delivery & installation £249 within 60 miles of our Hull showroom
Save £150 on this gazebo when you purchase a hot tub
Installation
We offer delivery and installation for £249 within 60 miles of our Hull showroom, if you're further afield, just get in touch and we'll be happy to give you a quote. Our installation service takes around 2-3 hours for two people to complete. 
We do not fasten/secure the building to the ground as they are designed as a 'free standing' product - if you wish to do this then you need to make your own arrangements.
You can also take on the installation yourself with another person (a step-by-step guide and all fixtures and fittings is included) or seek a professional tradesperson to do it for you. 
The roof measures 315cm x 365cm and will accommodate a hot tub up to 213cm x 213cm. The 'minimum' base area for the Gazebo needs to be 260cm x 365cm.
90 Day Guarantee
Our wooden gazebos are not 100% waterproof and there is no guarantee to cover leaks or the cracking, or warping of the wood due to the nature of this product (Tanalised Timber). We recommend that the wood is treated annually with a suitable preservative and please be aware you may get some sap dripping from the roof in the early months (this can be removed with soap and water).
We provide a 30 day guarantee for you to report any construction or manufacturing defects and within this time period we will cover any parts or labour required to rectify the fault. For an additional 60 days we will cover an defective parts but labour charge will be payable.
FAQs
Should I put a gazebo over my hot tub?
Gazebos create privacy from nosy neighbours while you soak in your hot tub! Not only that, they protect your spa from wind, rain and direct sunlight, securing your investment for years to come. 
What can I use as a shelter for my hot tub?
Wooden gazebos are an ideal choice for a hot tub shelter. They blend in seamlessly into your garden and allow for an open feel while protecting from the elements. Gazebos will enhance your relaxation experience in your own hot tub haven! 


Should a hot tub be in sun or shade?
Continuous exposure to the sun can damage your spa's appearance over time. Gazebos give you flexibility in placing a hot tub in your garden. If you don't have many natural shady spots, choose a hot tub shelter to protect your tub and your family from direct sunlight.