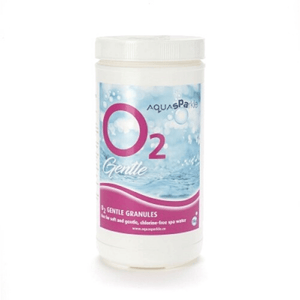 AquaSPArkle O2 Gentle Oxygen Hot Tub Granules - 1kg
Features we love 
1kg of 20g oxygen granules to sanitise hot tubs, spas and more
Kinder to sensitive skins than chlorine and offers softer water
Odour free and stress free sanitiser without that chlorine smell
Kills unwanted bacteria and controls algae
Use with oxygen liquid to keep your spa in the best condition all year round
Ideal for daily use or prior to bathing to keep water crystal clear and clean
All about me
AquaSPArkle Oxygen Granules are a mild, chlorine-free sanitiser that makes a great alternative for those with sensitive skin.
Need to know
Also known as Bayroklar Spa tablets, hot tub oxygen granules should be used in conjunction with oxygen liquid, to ensure that your water is clean and crystal clear, ready for you to enjoy.
As with any hot tub chemicals, these oxygen granules should be stored safely in a cool, dry place and out of reach of children and animals.
How to use
Add directly to your tub's water while the pumps are turned on.
For the first dose, add 25g of granules and 40ml oxygen liquid per 1,000 litres of water.
Prior to bathing, and on a weekly basis, add 15g of gentle granules per 1,000 litres of water and 10ml of oxygen liquid per 1,000 litres.
You must maintain an oxygen level between 5-10mg/l in your hot tub. Top tip: 10ml = approximately 10g
We advise to use test strips to test sanitiser levels, pH levels and Total Alkalinity (TA).
FAQs
What is oxygen hot tub sanitiser?
Active oxygen is the perfect sanitiser alternative to chlorine and bromine for people with sensitive skin as it's a milder solution. It's also typically odour-free.
How do oxygen hot tub granules work?
Oxygen granules work in conjunction with oxygen liquid to kill bacteria and make the water safe for bathers.
How often should I use oxygen in my hot tub?
Treat your spa with oxygen liquid on a weekly basis, test your hot tub water daily and use oxygen tablets prior to bathing.
If you need more information on using oxygen in your tub, check out our oxygen hot tub maintenance guide.