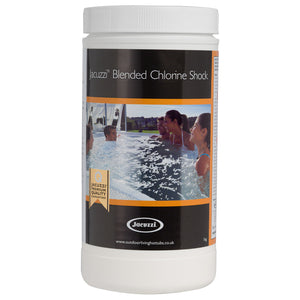 Jacuzzi® Hot Tub Chlorine Shock Blend - 1kg
Features we love
Top grade chlorine shock granules for hot tubs, spas & more
Oxidises water & removes contaminants
Helps chlorine work better and reactivates bromine
Clears cloudy water & restores water clarity quickly
Use your hot tub or spa in just 20 minutes
Jacuzzi® premium quality you can trust
All about me 
Jacuzzi Chlorine Shock Treatment is a fast-acting formula that effectively destroys non-filterable waste and improves water clarity in hot tubs.
We recommended treating your hot tub on a weekly basis or after heavy use to maintain a clean and clear hot tub. Simply add the shock treatment to your hot tub water and let it work its magic. You'll be left with a sparkling clean hot tub that is ready for use.
Our Jacuzzi Chlorine Shock Treatment is an essential spa treatment for maintaining the cleanliness and clarity of your hot tub water. Experience the Jacuzzi® difference for yourself.
How to use
Add 23g per 1000 litres/220 gallons, 46 per 2000 litres/40 gallons. Recommended as a weekly treatment or after heavy usage.
FAQs
How long do I have to wait before using my hot tub or spa?
It's safe to use your hot tub or spa in as little as 20 minutes or 24 hours after adding the granules to your water.
What is oxidisation?
Oxidation occurs when chloramines, oils and organic compounds break down in the water. This allows sanitisers (chlorine and bromine) to work efficiently and kill bacteria.
What are Chloramines?
Chloramines are created from chlorine during the sanitising process. Oxidising (or shocking) breaks down chloramines, making them revert to chlorine, which keeps levels regulated.
My water has become cloudy; will it help?
Yes, it'll restore the water and make it crystal clear.

If you need more information on shock treatments, check out our how to shock your hot tub guide.