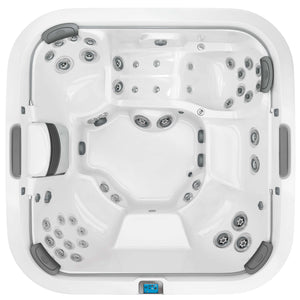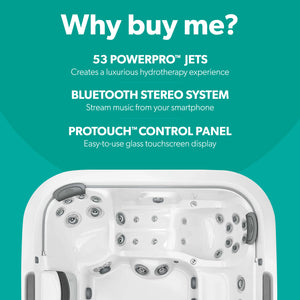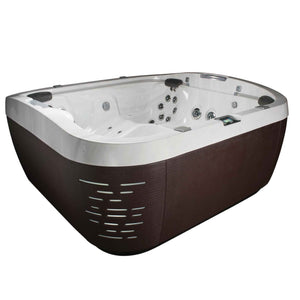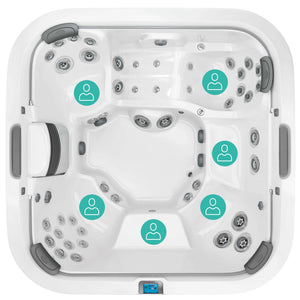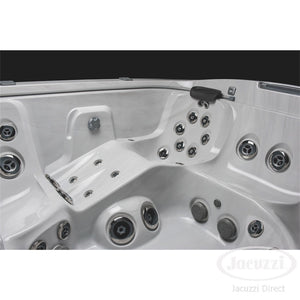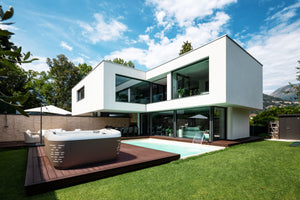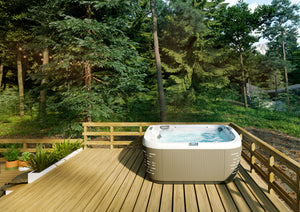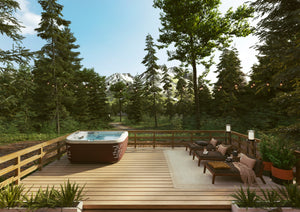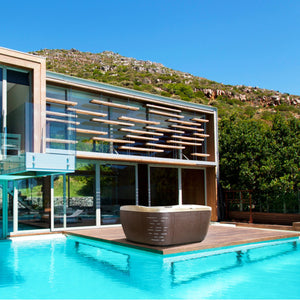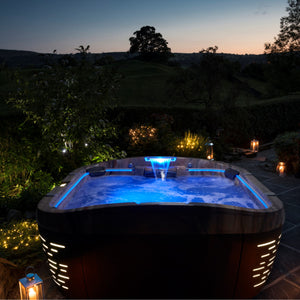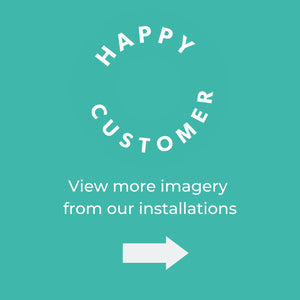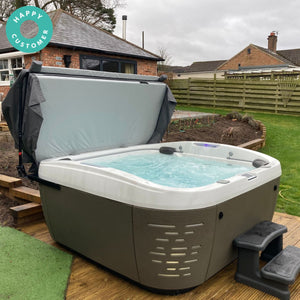 Jacuzzi® J575IP™ - 5-6 Person Hot Tub with 1 Lounger
Features we love
5-6-seater hot tub with a luxurious full-body lounger
53 powerful massage jets and high back for comfort
Two illuminated waterfalls and LED mood lighting
5-stage filtration and ClearRay® water purification
Bluetooth® premium speakers and ProTouch™ controls
Tech spec
Seats 5-6 people with 1 full-body lounger
High back
4 Pillows
231cm x 231cm x 92cm
53 PowerPro™ jets
2 illuminated waterfalls
3 pumps
23⁰C - 40⁰C
32 Amp power supply
Multi-coloured LED mood lighting
ProLights™ exterior lights
Bluetooth® stereo system
Premium speakers & amplified sub-woofer
CLEARRAY® water purification system
ProClarity® 5-stage filtration system
1 x ProClarity® 40sq ft Filter + 1 x ProClarity® Depth Load Filter + 1 x ProCatch® Bag with ProClarity® 60sq ft Filter
Capacity: 1685 litres
Weight (full/empty): 2470/407 kg
ProFinish® Cabinetry
ProTouch™ glass control panel
SmartTub™ system compatible
UV-resistant ProLast™ cover
Concealed clip skirt system for easy maintenance
Quick drain system
All about me
The J575IP™ combines innovative technology, ground-breaking design, and legendary Jacuzzi® hydromassage to establish a new standard in luxury hot tubs. It's not just a hot tub, it's an iconic centrepiece boasting style and excellence.
Luxurious hydromassage experience
The therapeutic lounge seat creates a fully immersive experience with two large FX-Directional jets for your hips, softer jet options for the backs of your legs and feet, and advanced PX jets for wrist massage. Two dual-facing waterfalls create a relaxing head and neck massage, and one features a large rotational jet for a focussed back massage. Sleek cushioned headrests maximise the comfort.
Stunning design
You've simply never seen a hot tub like this. Defined by a cutting-edge curved design, the J575IP™ is made using a weatherproof Curvalux™ exterior, mimicking the weave texture of designer outdoor furniture. Exterior and interior lighting create a 360° fibreoptic experience for ambience that you can tailor to suit your mood.
Advanced & energy-saving technology
The ProTouch™ glass touchscreen control panel is simple to use, and the ProLink™ app allows you to control the hot tub from your phone. A BlueWave® stereo system with premium speakers and a built-in sub-woofer creates optimised sound. The ClearRay™ water purification system ensures crystal clear water, reducing the need for sanitisers by up to 50%. The ProLast™ cover keeps the hot tub insulated when not in use, improving energy efficiency and helping you to save on energy costs.
Finish
Shell
Cabinet
Video
How do I order?
Click 'buy now' above or complete a finance form if required 
We'll call you back to arrange a site survey, which are usually by phone or video call
We'll organise a delivery and installation date
On your delivery date, we'll install your spa and get it ready to use, which usually takes around two hours
Or, if you visit one of our showrooms, we'll organise everything there and then.