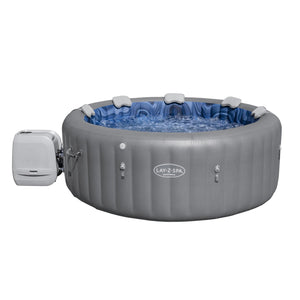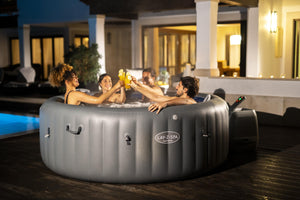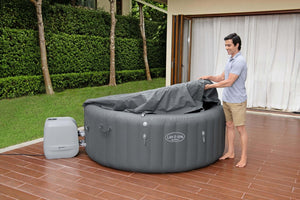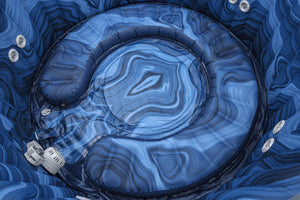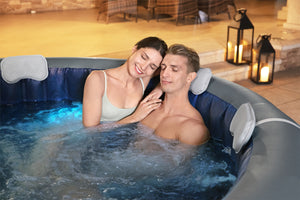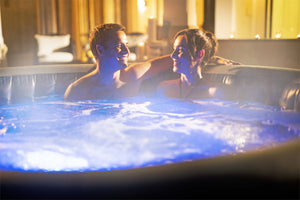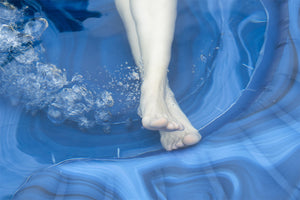 Lay-Z-Spa® HydroJet Pro Santorini - 7 Person Inflatable Hot Tub
Features we love
Tool-free set up in just 5 minutes!
7 seater with bench, built-in cup holders and LED lighting - perfect for families and friends 
Portable for parties on the move, whether indoors or outdoors 
Highest number of AirJets™ in our range at 180 plus 10 multi-directional HydroJets™ - the ultimate in hydrotherapy relaxation while you soak and soothe!
Central feet massager and soft-touch pillows to soothe and unwind 
Energy-saving timer, cover and thermal lid to retain heat
Tech spec
Seats 7 people
Portable hot tub for indoors or outdoors
Tool-free set up in just 5 minutes!
Integrated raised bench seating
5 soft touch padded pillows
High sides for extra comfort
216cm x 216cm x 80cm
10 multi-directional HydroJets™ and 180 AirJet™ massage system
Heats up to 40°C
ChemConnect™ chemical dispenser for sanitiser tablets
Filter for clean and clear water
1,325L p/h water flow
Built-in cupholders
13 Amp power supply
7M power cable (approx)
Digital control panel
Energy saving timer
ColorJet™ water-powered LED mood lighting
Central feet massager
Freeze Shield™ technology protects against water freezing during winter nights
Water capacity: 1547L
Weight full: 1,253kg
Cover to prevent debris from entering the water
Thermal lid to retain heat
Includes cover, lid, liner, pump, filter cartridge, chemical dispenser and repair patch
2 year manufacturer's lazy spa warranty for peace of mind 
All about me
Boasting more jets than any other Lay‑Z‑Spa and a brand new integrated seating design, the Santorini HydroJet Pro™ is a premium lazy spa offering the ultimate home spa experience. 10 multi-directional HydroJets™ and 180 AirJets™ will let you indulge in a deeply therapeutic spa session whilst comfortably seating up to 7 people, and including 5 soft‑touch pillows.
Our lay z spa santorini comes with everything you need for 'Lay-Z' relaxation with all the tech but without the fuss! Enjoy peace of mind while you soak, with a 2 year warranty and UK based after-sales service, for expertise at the end of the phone. 
Comfortably fits up to 7 people
The Lay‑Z‑Spa Santorini HydroJet Pro™ is spacious enough to comfortably seat 5‑7 people, making it perfect for enjoying a spa session with all of your family and friends.
40°c rapid heating system
The lazy spa santorini's intelligently designed pump is able to rapidly heat the water up to a blissful 40°C. Select the temperature you desire using the digital pump and you can enter your hot tub knowing it is perfectly setup ready for you to enjoy. The pump's technology also enables you to heat the water, run the AirJet™ massage system and filter the water continuously.
HydroJet Pro™ massage system ‑ 10 HydroJets™ & 180 AirJets™
The premium lazy spa hot tub massage system features 10 multi‑directional and flow‑adjustable HydroJets™ and 180 soothing all‑surrounding AirJets™ that can be used together or individually for an invigorating spa experience.
Clean & clear water, made easy
Lay-Z-Spas come with a ChemConnect dispenser to gradually release sanitiser tablets to kill bacteria, simply attach it to the inside of your tub, over the filtration outlet - there's no need for floating dispensers. Your Lay-Z-Spa will also comes with filter cartridges to remove debris and dirt.
Tool free setup in just 5 minutes
As with all Lay‑Z‑Spa hot tubs, it can be easily set up and inflated in under 5 minutes, ready to fill with water. No tools or professional installation required.
Integrated bench seating & feet massager
The luxurious santorini lazy spa features an almost completely circular integrated inflatable bench seating area for ultimate comfort and a circular set of AirJets™ that acts as a foot massager
Water-powered LED lights & padded pillows
This Lay‑Z‑Spa is not short of features. It includes 5 brand new soft‑touch padded pillows and two ColorJet LED Lights. Powered by water alone, the LED lights offer a variety of settings with 7 different colour options.
Premium features in all Lay-Z-Spas
Insulating inflatable lid and reinforced cover with safety lock clips, energy‑saving timer, Freeze Shield™ technology, ground fault detection system, ChemConnect™ chemical dispenser, digital display panel and built‑in cup holders.
Read about which lazyspa is right for you in our guide.
Videos
FAQs
How long does a Lay-Z-Spa Santorini take to heat up? 

The time it takes for your Lay-Z-Spa to heat up depends on the temperature outside, how cold the water is, and the size of the tub. The higher the capacity of the water, the longer it takes to heat. You can expect the Santorini to take 12 to 24 hours to heat cold water to 40°C. If your inflatable hot tub has a lid or cover on, this will speed up the process.

What are the contents of the Lay-Z-Spa Santorini? 

1 x Santorini hot tub
1 x Pump and heater
1 x Cover
1 x Insulated inflatable lid
1 x Chemical dispenser
2 x Filter cartridges
1 x Repair patch

Does the Lay-Z-Spa Santorini come with chemicals? 

Your Lay-Z-Spa doesn't come with chemicals, but it has a ChemConnect dispenser for sanitiser tablets, to remove the need for floating dispensers. You can find chlorine tablets and bromine tablets easily. To get all the chemicals you need to use your tub, go for a chemical starter kit.

What chemicals do I put in my Lay-Z-Spa Santorini?

Proper chemical maintenance is essential to prolong the life of your lazy spa hot tub. Use either a chlorine or bromine sanitiser to kill bacteria. Or, an oxygen alternative is ideal for sensitive skin. Lay-Z-Spas come with a ChemConnect dispenser to gradually release sanitiser tablets, simply attach to the inside of your tub, over the filtration outlet - there's no need for floating dispensers. You'll also need to keep your blow up tub water balanced with our pH & alkalinity increasers and reducers. Water conditioners will also improve the look and feel of your lazy spa's water, while filters cleaners and cleaning tools keep it sparkling fresh. Get a testing kit to check the water balance and shock treatment to oxidise chemicals in your spa. We also stock hot tub starter kits to make your Lay-Z-Spa tub good to go!

Are Lay-Z-Spa Santorinis energy efficient? 

Yes, all Lay‑Z‑Spa hot tubs include energy-saving features as standard to minimise hot tub running costs. These include the insulating lid, power‑saving timer and thermostatic heating system. Some models are also available with an insulating EnergySense™ cover. 

 

How do I reduce Lay-Z-Spa Santorini running costs?

Buy a thermal hot tub cover

Use a hot tap to fill the tub

Maintain a constant temperature

Run the tub only at weekends

Use the lid and a floor protector

Avoid windy areas or use a shelter

Use the power-saving timer

Use the tub during warmer weather

Use the massage system less

How long does a Lay-Z-Spa Santorini last? 

If your lazy spa is set‑up correctly and well maintained, you can enjoy it for many years. 

Can I use my Lazy Spa Santorini in winter? 

Yes you can! Freeze Shield™ technology means you can use your Lay-Z-Spa in winter. When the outside temperature drops below 6°C, Freeze Shield™ activates your lazy spa pump and mildly heats up your hot tub to prevent the water and pipes from freezing.

How do I protect my Lazy Spa Santorini in winter? 

A cover will keep your Lay-Z-Spa protected from winter weather, including fallen leaves, branches and insects! Hot tub lids also keep the water temperature up, saving you money in reheating. Make sure you keep snow and ice from collecting on the top of your cover by gently removing it.