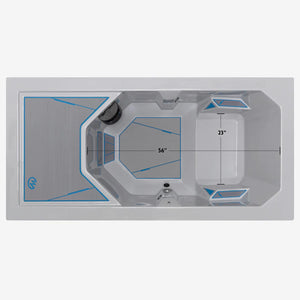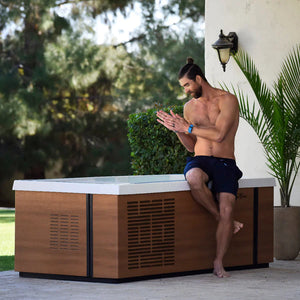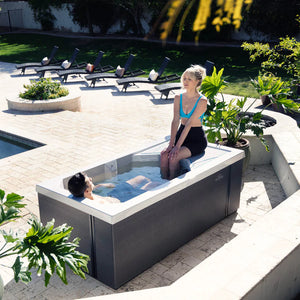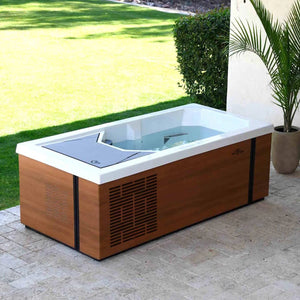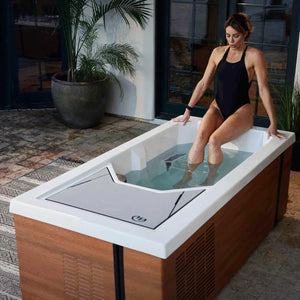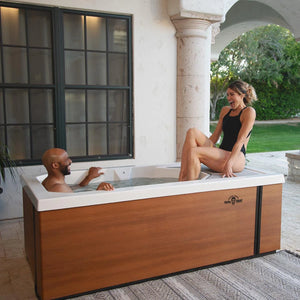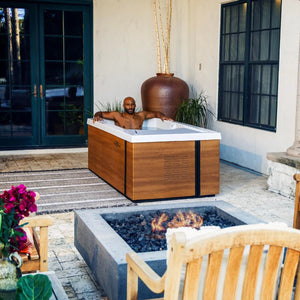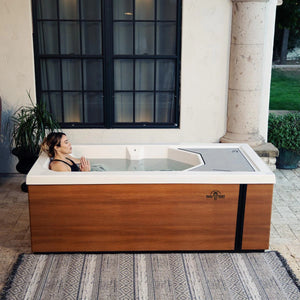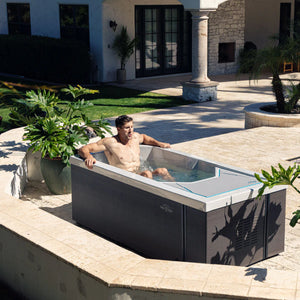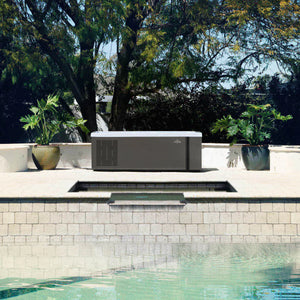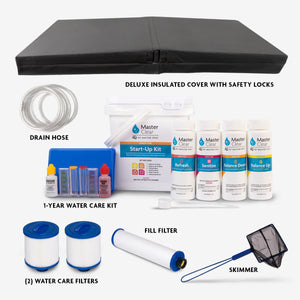 Master Spas® Michael Phelps Chilly GOAT™ Alpine - Ice Bath
Regular price
£8,999.00
Sale price
£9,999.00
Features we love
Ice bath for cold water therapy endorsed by the GOAT himself Michael Phelps
Helps to reduce muscle soreness and inflammation, improve recovery time and circulation, while de-stressing and enhancing mental wellbeing
Designed for ultimate performance and unparalleled comfort
Built-in chiller and filter - no need for ice packs and cools water quicker than any ice tub on the market
Go from cold to hot with personalised hydrotherapy thanks to dual flow jets
Minimal maintenance with all the tech for ice bathing without the fuss
Smart tech to seamlessly control temperature, lighting and jets through the WiFi app
SoftTread™ nonslip comfort flooring and ergonomic seat and armrests
Tech spec
1 person ice bath
Size: 214cm x 107cm x 77cm
Premium built-in 2.1hp chiller - no need for ice bags
Dual flow stainless steel jets for personalised hydrotherapy
Premium purification system with UV, filter and skimmer net for clear water
No ice needed, just refresh the water and filter every few months
1 year chemical kit, 2 water care filters and net included
Fill filter for garden hose
24 hour circulation pump
Built in drainage system
Gets down to 4⁰C and up to 40⁰C to go from cold to hot
LED lights to set the mood
Wifi app connectivity
13 Amp power supply
Capacity: 455 litres
Weight: 225kg empty / 794kg full
Built-in seat and armrests
SoftTread™ nonslip comfort floor system
Top deck to sit on, hold your towel, or your phone
Contemporary water-resistant cabinet in two colour choices
Full foam insulation
Deluxe insulated cover with safety locks to reduce running costs
2 year residential warranty for peace of mind
All about me
Are you feeling the pull to take the plunge? Revitalise your body and mind with the invigorating Chilly GOAT™ ice bath experience. Immerse yourself in revolutionary cold water therapy, built in collaboration with the Greatest of All Time himself, Michael Phelps. Designed for ultimate performance and unparalleled comfort, you can enjoy all the benefits of cold immersion, whenever you want it.
Our Alpine ice tub, crafted by the award-winning Master Spas®, makes it easier to get comfortable in the cold. Enjoy a spacious, deep tub for a fully immersive dip, along with non-slip flooring and armrests. This state-of-the-art ice bath comes with wifi connection for smart control at your fingertips, along with a built-in chiller, insulated cover, and premium filtration system, giving you crystal clear cold water and minimised energy costs. Embrace the cold, channel your inner Olympic champion, and transform your garden into an at-home sanctuary to enhance recovery, reduce inflammation and break through mental barriers. 
Go cold with unmatched cold water therapy for physical health
Unlock the physical benefits of therapeutic cold water immersion. Icy water stimulates the nervous system, giving you improved performance and faster recovery. Ice baths are your gateway to reducing muscle soreness, promoting better circulation and resistance to fatigue. Cold water therapy helps in reducing inflammation by restricting blood vessels, making it ideal if you suffer from inflammatory conditions like arthritis. The dual jets allow for personalised hydrotherapy, and with a maximum temperature of 40c, you can go from cold to hot for an extra boost of relaxation. Accelerate metabolism, boost energy levels, and fortify your immune system – all with a dip in the Alpine!
Live bold with ice water immersion for mental wellbeing
Diving into near-freezing water triggers a surge in norepinephrine production, giving you increased focus, energy, and a refreshed mood. Scientifically proven, a 20-30 second dip in near-freezing water equals the norepinephrine increase of a 6-hour walk in 16°C weather! You could enjoy strengthened mental resilience, improved sleep quality, as well as feeling more energised with the transformative power of cold hydrotherapy. After a long day of work, an at-home ice bath is a perfect retreat to refresh in, you can even set the mood with LED lighting. Push past your boundaries and become a better version of yourself with a little help from the GOAT!
Feel like a GOAT with minimal maintenance
Experience the rejuvenating power of cold water therapy without the fuss, for everyday wellness in the convenience of your garden. The Alpine ice bath needs minimal maintenance, eliminating the need for ice cubes. Thanks to the built-in chiller, just fill up the tub and refresh the water every few months. Enjoy the convenience of crystal-clear chilled water at your fingertips, with temperature control down to 4°C, smart control via the wifi app, along with built-in filtration and sanitisation systems. The included chemical kit has enough sanitisers to keep your water fresh for a whole year - so you're good to go.
Please note: we advise you to consult your healthcare professional before using an ice tub, especially if you are pregnant or have any health concerns. Get more advice in our guide to cold water therapy.
"Recovery is an important part of an athlete's schedule but it should be a part of everyone's schedule. You need time to recharge and recover from everything that is going on in your life." — Michael Phelps
Video
FAQs
What is chilly goat?
Chilly GOAT cold tubs merge sophisticated design with the practicality of an ice bath, that easily fits into your daily routine. With thoughtfully crafted design, you can enjoy unparalleled comfort and superior performance in every session. Recover faster, support your immune system, relieve inflammation, and more.
Is an ice bath good for you?
Ice baths offer a range of benefits for your physical and mental wellbeing. Cold water immersion stimulates the nervous system which can help with reducing inflammation, increasing circulation, decreasing stress levels, improving focus, and speeding up your recovery after a workout. Make sure that you consult your doctor before using an ice tub, especially if you are pregnant or have health concerns.
How does an ice bath with chiller compare to a DIY ice bath?
Although DIY ice barrels have minimal upfront costs, repeated ice purchases will soon start adding up! Chilly Goat ice baths come with built-in chillers, providing the convenience of the water being chilled when you hop in, no matter the weather, as well as temperature control down to 4c at your finger tips. You'll also enjoy crystal clear waters with built-in filtration and sanitisation systems. If you're serious about your wellness routine, you can guarantee it'll last for many years, with the latest tech and expert support on hand.
How do I set up my ice tub?
Put a garden hose into your ice bath, it'll take around 45 minutes to fill. Plug your ice tub into a 13amp plug socket and set your desired temperature on the control panel. You'll be able to start using your new ice bath within a few hours! We recommend you empty your water every 8-12 weeks and repeat the first 3 steps.
How long should I go in my ice bath?
We recommend you work up to 15 minutes without pushing your body beyond its limits - even 2 minutes will have some benefits. We advise you to consult your healthcare professional before using an ice tub.
How often do I replace the filter in my ice tub?
Your filter should be changed every 3 months.
How often do I replace the water in my ice tub?
Replace the water in your ice bath every 2 to 3 months, depending on how often you use it, and visible water quality. If you use your ice bath regularly or don't sanitise it effectively, you'll need to refresh the water more often. Drain and re-fill your ice bath for fresh water.
How do I order?
Click 'buy now' above or complete a finance form if required 
We'll call you back to arrange a site survey, which are usually by phone or video call
We'll organise a delivery and installation date
On your delivery date, we'll install your ice bath and get it ready to use
Or, if you visit one of our showrooms, we'll organise everything there and then.