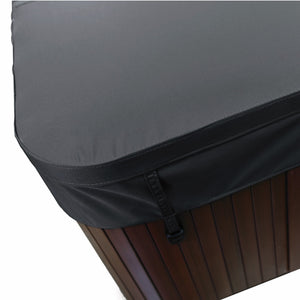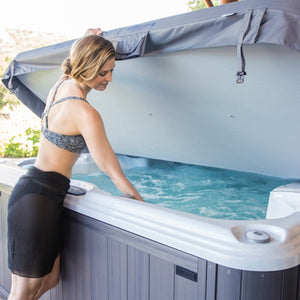 Sundance® Marin™ Sunstrong™ Hot Tub Cover
Features we love
25% lighter than vinyl covers for ease of use without losing durability
Tested for reliability under extreme conditions to ensure your hot tub stays protected
UV resistant and water resistant to maintain colour and quality of your cover longer
Easy to clean with a nylon brush and mild soap with most stains
Thermal cover that retains heat to lower energy bills

Made with durable, marine-grade material to ensure your hot tub is protected in any weather
All about me
Replacement hot tub cover for the Sundance® Marin™ spa. Available in Sunstrong™ premium fabric, crafted from durable marine grade material to make caring for your spa both stylish and simple.
Sunstrong™ covers retain heat that lowers your energy bills. These thermal covers are weather resistant from rain, snow and UV rays, so your Sundance® spa and cover lasts for longer.
FAQs
Should I cover my Sundance® Spa in winter?
A hot tub cover will keep your Sundance® Spa protected from winter weather, including fallen leaves, branches and insects! Hot tub lids also keep the water temperature up, saving you money in reheating. Make sure you keep snow and ice from collecting on the top of your Sundance cover by gently removing it.
How long do hot tub covers last?
Hot tub covers should last between three to four years if cared for properly. Ensure you clean and take care of it, using cleaning sprays and straps.
How do you clean hot tub covers?
Move over moss, mould and mildew, there is no room for that when enjoying your Sundance® Spa! Use cleaning sprays and a soft sponge to clear any dirt to prevent any muck from sticking to the residue. Rinse with water to ensure the cover is free from products and try to dry it thoroughly.