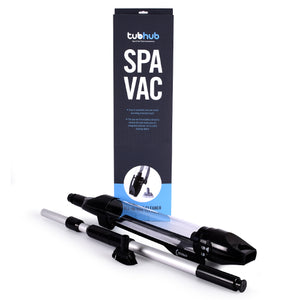 tubhub Pool/Hot Tub Spa Vacuum with Net
Features we love
UK's bestselling spa vacuum!
Perfect for maintaining hot tubs and small pools
Picks up sand and small debris
Choice of nozzles to get into tight corners and hard-to-clean areas
Handheld, lightweight and easy to use with simple hand motion 
No cords, batteries or hoses needed
All in one attachments including extending pole, soft vacuum head, slide-on brush and fold-out skimmer net
All about me
Make keeping your spa or small pool clean easy with the UK's bestselling hot tub vacuum! You don't need power to operate it, so your hot tub with be debris free without the fuss. This spa vac hoovers up debris with a simple sucking action. 
Our all-in-one tubhub spa vac comes with a choice of nozzles, so you can easily reach tight corners and hard-to-clean areas, as well as an extending pole and fold out skimmer net to clean with minimal fuss!
How to use
Place your thumb over the hole at the end of the tube. Lower your spa vac into the tub on top of any dirt, release your thumb and the vac will hoover up the debris. Take the vacuum out, water will then drain from the vac and you can shake out the particles so it's ready to reuse.
FAQs
How often should I clean my hot tub? 
Each part of your hot tub needs a good clean at different intervals. It all comes down to how often you use your spa, water care products, and maintenance routine. As a rough rule of thumb, we recommend cleaning the following parts:
After each use:
Wipe the shell to remove water lines using a clean damp cloth. Or, for stubborn marks, try our tub scrubber
Weekly
Clean the filter
Check and rebalance the pH and sanitiser levels
Shock dose the water
Quarterly
Clean your pipes with a pipe cleaner
Drain and refill your hot tub
Clean the interior shell
Annually
If you need more advice on keeping your spa spotless, read our hot tub cleaning guide.