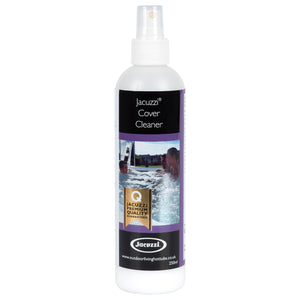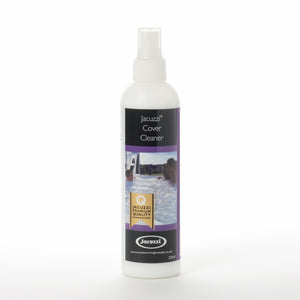 Jacuzzi® Hot Tub Cover Cleaner - 250ml
Features we love
Jacuzzi® quality cleaning solution for your spa's cover
Protects your lid from the elements including UV and rain 
Adds shine to keep it looking brand new
Prolongs the lifespan of your cover and hot tub
Use every 1-3 months for optimum results 
Jacuzzi® premium quality you can trust
All about me
Jacuzzi's hot tub cover cleaner is a silicone-based solution that cleans, shines, and protects your spa cover from the elements. This versatile cleaner is perfect for cleaning and maintaining acrylic, vinyl, and rubber hot tub lids, keeping them looking like new for longer and protecting your investment! 
Our hot tub cover cleaner is specially formulated to protect against UV light and moisture, two of the biggest causes of damage to your cover. By using cleaner regularly, you can extend the lifespan of your hot tub cover and reduce the need for costly replacements.
With Jacuzzi's premium quality as standard and an easy to use spray bottle, you can rest assured that it'll deliver superior cleaning and protection for your hot tub cover, without the fuss. Say goodbye to dull, dirty covers and hello to a sparkling clean and well-protected hot tub! Experience the Jacuzzi® difference for yourself.
How to use
Use monthly. Remove loose debris with a hose first, then spray the liquid lightly on your hot tub's cover, gently rub the surface using a soft cloth. Avoid using abrasive cleaning tools such as wipes or scourers as they risky scratching the cover's surface.
FAQs
What can I use to clean my hot tub cover?
There are hundreds of cleaning products to choose from, so we recommend using those made for your hot tub's specific make and model. Click here to see our full range of cleaning tools.
How do you clean a hot tub cover? 
Spray away loose dirt or debris from your hot tub cover using a high-powered hose pipe. Then, wipe the surface with a soft, damp cloth and spray with an approved hot tub cover cleaner.
How often should you clean hot tub covers? 
We recommend cleaning your spa's cover every one to three months. This will keep it moisturised, protected from UV damage and extend its lifespan. 
If you need more information on keeping your spa clean, read our hot tub cleaning guide.