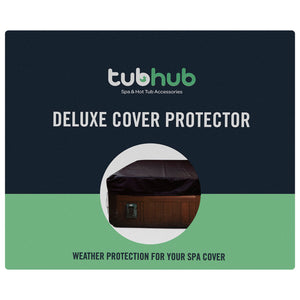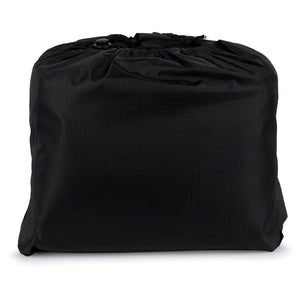 tubhub Deluxe Hot Tub Cover Cap Protector
Features we love
Protects your hot tub's cover
Keeps your spa cover lasting for longer
Easy handling with lightweight charcoal Ripstop polyester
Water-resistant and breathable to reduce condensation
Drawstring keeps it secure on windy days
Handy storage bag when not in use
25cm skirt and 10cm radius across all sizes
Choose the size that suits your tub
All about me
This simple but very effective protector keeps your valuable hot tub cover safe from harsh weather conditions as well as dirt and other debris.
Made from lightweight Ripstop polyester, this deluxe hot tub cover protector is water-resistant and breathable, helping to reduce the formation of condensation. Fitted with a drawstring to secure it from lifting off on windy days, our cover cap is supplied complete with a handy storage bag.
Looking for protection for your hot tub cabinet? We also sell a deluxe cover protector with sides.
Need to know
All sizes shown have a 25cm skirt and 10cm radius corners.
Please Note: This product is not a safety cover and is not for insulation purposes. It will not be a suitable replacement for a regular insulated hot tub cover however it will aid in prolonging the life of your regular insulated hot tub cover.
How to use
Place over your thermal cover and tie the drawstring to keep it in place. When using your hot tub, ensure that you remove the cover protector before you remove your regular hot tub cover. If you do not remove beforehand this can result in stretching and damage through tearing of the cover cap.