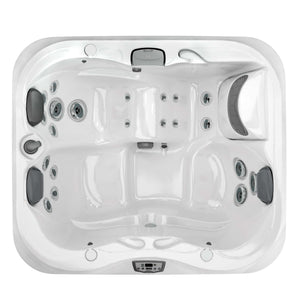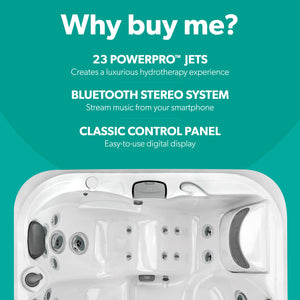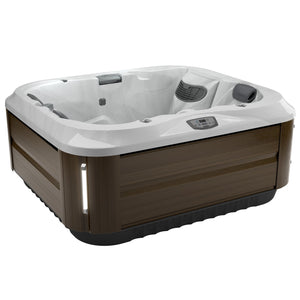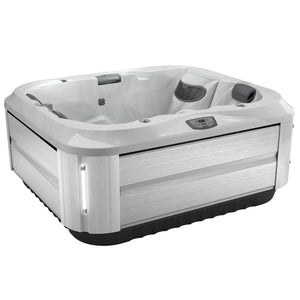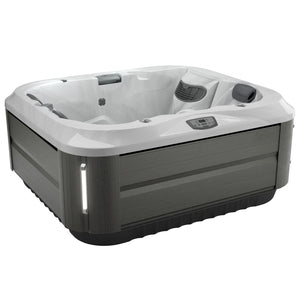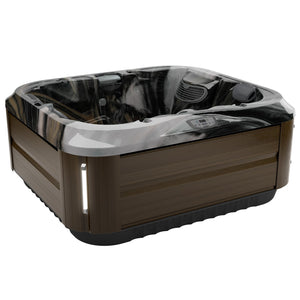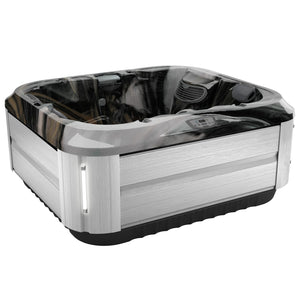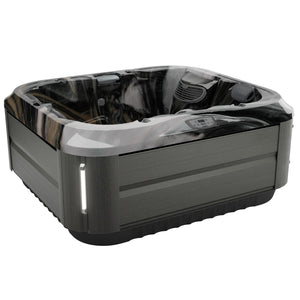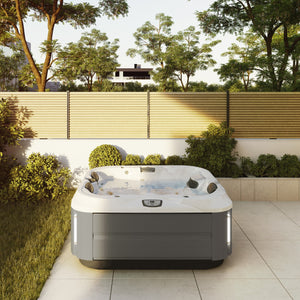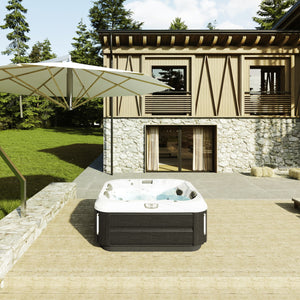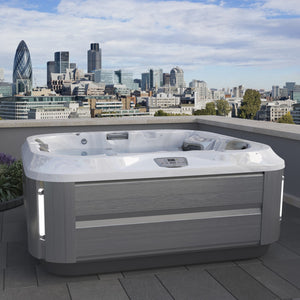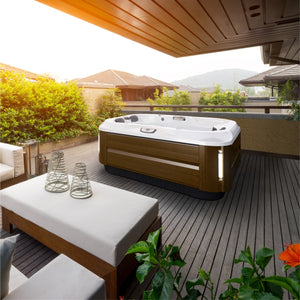 Jacuzzi® J315IP™ - 3 Person Hot Tub with 1 Lounger
Features we love
3-seater hot tub with an integrated lounger
23 powerful hydromassage jets for ultimate relaxation
Bluetooth® speakers and Hydrosoothe™ massage pillow
4-stage filtration and ClearRay™ water purification
Easy to use advanced LED control panel
Tech spec
Seats 3 people with 1 lounger
3 pillows
168cm x 193cm x 80.65cm
23 PowerPro™ jets
Rainbow waterfall
2 pumps
23⁰C - 40⁰C
32 Amp power supply
Internal and external ProLite™ LED lighting
Illuminated cupholders
Bluetooth® stereo system
ClearRay™ water purification system
ProClarity® 4 stage filtration system
2 x ProClarity® 60 sq. ft. filter
Capacity: 795 litres
ProFinish® cabinetry
SmartSeal™ insulation
Classic control panel
SmartTub™ system (optional upgrade)
Smart access door – easy access for servicing
All about me
The Jacuzzi® J300 range puts comfort at the forefront, bringing a new dimension of functionality and design. The J315IP™ is perfect for a small space and delivers all the benefits of a large hot tub, including an integrated lounger.
Luxurious hydromassage experience
23 specialist PowerPro™ jets give a more advanced lower back and leg massage, ideal for recovering after a long day. A Hydrosoothe™ massage pillow provides a soothing head and neck massage with a cascade of water over the neck and shoulders without splashing or spraying. Easily adjust your massage and temperature preferences with the LED control panel.
Stunning design
ProFinish™ cabinetry features corner lighting inspired by architecture to create a stunning, modern finish. The classic rainbow waterfall and adjustable premium LED lighting provide a unique chromotherapy experience that you can adjust to set the ambience for any occasion.
Advanced & energy saving technology
The J315IP™ features a SmartTub™ system, the easy way to control your spa via an app. A smart-access door provides quick and easy entry to the internal components for servicing. Innovative SmartSeal® insulation is an environmentally friendly and money-saving solution that reduces energy use by 20%, perfect for cold climates. The ClearRay® and 4-stage filtration system creates superior water purity, reducing the need for water sanitisers by up to 50%.
Finish
Shell
Cabinet
Modern Hardwood
Brushed Grey
Smoked Ebony
Video
How do I order?
Click 'buy now' above or complete a finance form if required 
We'll call you back to arrange a site survey, which are usually by phone or video call
We'll organise a delivery and installation date
On your delivery date, we'll install your spa and get it ready to use, which usually takes around two hours
Or, if you visit one of our showrooms, we'll organise everything there and then.