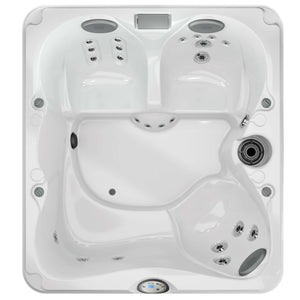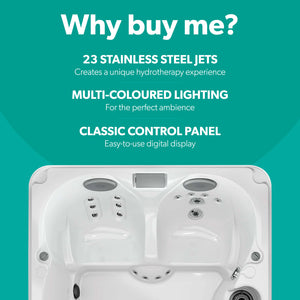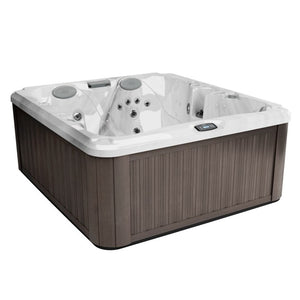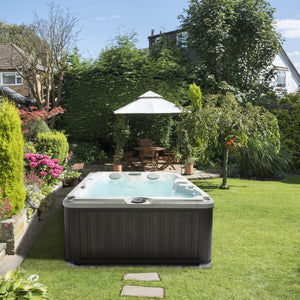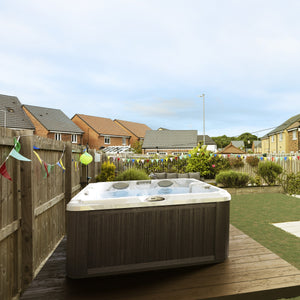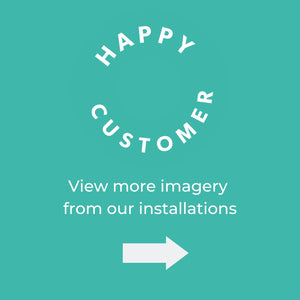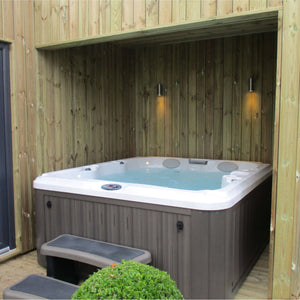 Jacuzzi® J225™ - 4 Person Hot Tub
Features we love
4-5-seater hot tub with casual bench seating
23 hydromassage jets and 3 cosy integrated pillows
Multi-coloured LED lighting, waterfall and cup holders
Easy-to-use single-button control panel
ClearRay® UV water purification & 2-stage filtration
Tech spec
Seats 4-5 people
213.5cm x 193cm x 87cm
3 x pillows
23 stainless steel jets
23⁰C - 40⁰C
1 Jet pump system
20/32 Amp power supply
Waterfall
Built-in cup holders
Multi-coloured lighting
ClassicPro™ massage system
ClearRay® water purification system
Classic 2-stage filtration system
1 x 50sq ft Filter
Water capacity: 1340L
Weight (full/empty): 1914kg/255kg
SmartTub™ system compatible
Classic control panel
ProLast™ or ProLast™ extreme hot tub covers (optional)
All about me
Enjoy this Jacuzzi® hot tub with enough space for four to five people to sit comfortably. It comprises three ergonomic seats and an open seating area providing space for up to two users to enjoy. It's perfect for family and friends to socialise, entertain, or enjoy a solo soak. Aesthetically pleasing, it'll make a great addition to your garden or home all year round.
Powerful massage experience
23 jets have been placed in a specific formation to release tension and increase blood circulation to suit your needs. Each of the three dedicated seats offers a powerful yet unique deep-tissue massage experience across your back, shoulders, and spine. The bench seat ensures a soothing back massage treatment. Jets within the dome in the base provide the ultimate reflexology experience, perfect if you've been on your feet all day. Your body is left feeling revitalised and relaxed from head to toe.
Beautiful design
This hot tub is luxurious, from its smooth synthetic wood cabinetry and the many features it has to offer. Multi-coloured LED lighting under and above water level illuminates your bathing space, while the relaxing cascading waterfall feature adds to the ambience. A built-in drinks holder ensures your drinks are always at hand. You can enjoy it for longer, too, thanks to the ClearRay® water purification system, which provides water clarity and reduces the need for sanitisers by up to 50%, keeping it looking good.
Innovative technology
This modern single-button control panel with pre-set programs makes this hot tub user-friendly, from jet, pumps, and filtration to temperature and lighting. Plus, there's a pre-programmed 2-stage filtration, including a top-loading filter system. It's also compatible with the SmartTub™ system, which enables you to monitor and control your spa from your phone – it's a great first hot tub.
Finish
Shell
Cabinet
Video
How do I order?
Click 'buy now' above or complete a finance form if required 
We'll call you back to arrange a site survey, which are usually by phone or video call
We'll organise a delivery and installation date
On your delivery date, we'll install your spa and get it ready to use, which usually takes around two hours
Or, if you visit one of our showrooms, we'll organise everything there and then.