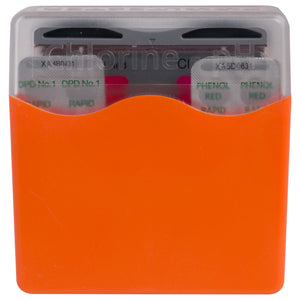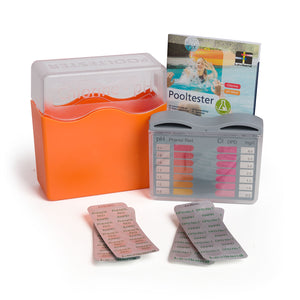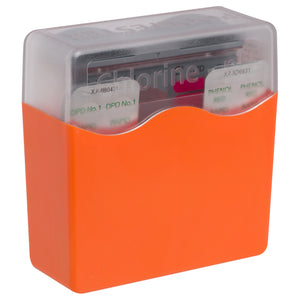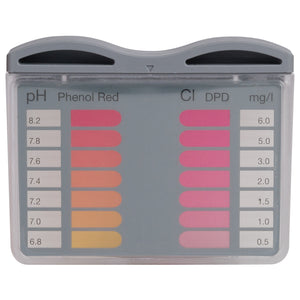 Lovibond PoolTester | Chlorine & pH Testing Kit - Pack of 2 x 20
Features we love
Water testing kit for pools, hot tubs & spas
Checks bromine & pH
Includes water testing device 
With 2 x 20 tablets 
Quick and easy to use with rapidly dissolving tablets 
Accurate results you can trust with Lovibond's 130 years of water analysis expertise!
All about me
We know how important testing your water is. Even if it looks the same, having the correct chemical balance is vital to keep your water safely sanitised. Our PoolTester kit provides simple and easy testing for Chlorine and pH within your hot tub water.
The tester includes two measuring chambers for you to fill with the hot tub water then just add your rapid dissolving tablets to give accurate results quickly. The tablets will change the colour of the water to make it easy to compare to the colour chart on the tester so you know if you need to adjust your water chemistry.
Each kit includes:
20x Phenol Red tablets for testing pH
20x DPD No.1 tablets for testing Chlorine
1x PoolTester pH-Chlorine unit
Need to know 
Please note: additional tablet packs are sold separately.
How to use
Simply immerse the water tester in your pool, or fill a water sample into the chambers, add a tablet and read the results. The water will change colour and the comparison scale makes it easy to read the values. 
FAQs
How often should I test my pool or hot tub water?
We recommend you test your water daily whether your spa is in use or not. 
How long after shocking a hot tub can you test the water?
There is no set time to wait before using your hot tub. All brands give different recommendations, ranging from 20 minutes to 24 hours. However, before donning your swimsuit and stepping inside, we suggest using a test strip to ensure your chlorine levels are safe.
Top tip: Non-chlorine shock treatments don't sanitise the water. This means you can usually use your hot tub after approximately 20 minutes of adding the chemical.
If you need more advice on keeping your tub water sparkling fresh, read our hot tub maintenance guide.