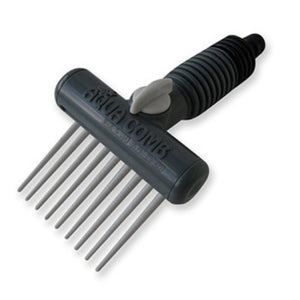 Aqua Comb™ Hot Tub Filter Cleaner
Features we love
Combs deep into hot tub and swim spa filters
Cleans filter pleats in 3 to 5 minutes
Improves the efficiency of your filters
Connects to your hose and has an anti-clog mesh
All about me
Our Aqua Comb™ cleans your filter faster. It takes only 3-5 minutes to comb your hot tub's filter, leaving it debris free and reducing your need for chemicals, saving you time and money.
This hot tub comb works best with filter cleaner spray and connected to a hose. It's designed to fit into the pleats of hot tub filters and pull out any debris - let the Aqua Comb do the heavy lifting in your hot tub cleaning regime!
Aqua Comb's main body is made of UV protected ABS plastic, with the barrel valve and teeth made of UV protected nylon with 304 stainless steel 30 mesh screen hose, so you can rest assured it'll prevent any clogs.
Need to know 
Designed for shallow pleated cartridge filters used in most standard hot tubs and larger swim spas. Works for filters with a fin depth between 3/4" and 11/4" (190mm - 320mm).
We recommend soaking your filter in a filter cleaner at least every 4 months to help keep your filter working effectively.
How to use
Remove the filter cartridge from your hot tub
Use a spray-on filter cleaner and leave it for 5 minutes to loosen oils and dirt
Attach the comb to your hose connector
Flick the switch to turn on the water supply
Comb into filter pleats

FAQs

How often should I clean my hot tub filters?

We recommend cleaning your hot tub filters once a week. This will ensure dirt, debris and pollutants are cleared quickly and effectively and will extend the life of your filter. A clean hot tub filter gives you more accurate results when testing the chemicals, meaning you could save money.

If you need more advice on keeping your hot tub clean, read our how to clean your hot tub filters guide.