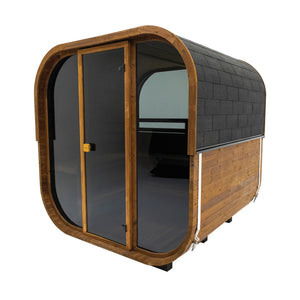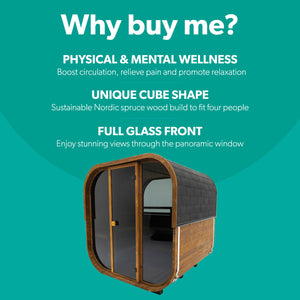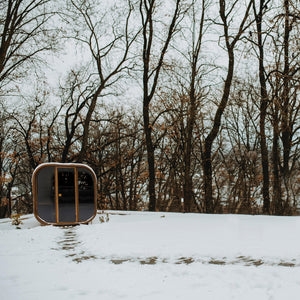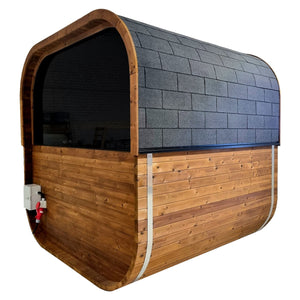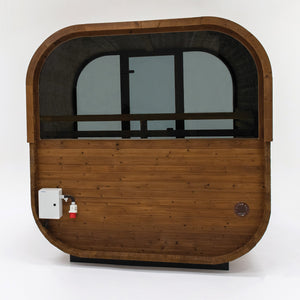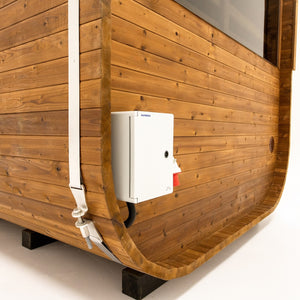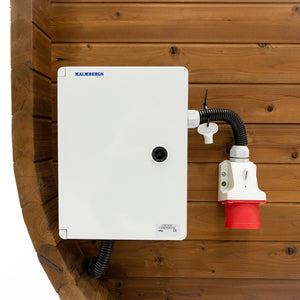 Hekla Cube 210 - 4 Person Outdoor Sauna
Regular price
£6,499.00
Sale price
£6,499.00
Features we love
4 person cube sauna for your own spa sanctuary in your garden
Built sustainably with high quality Nordic spruce inspired by nature
Heat and humidity can relax muscles, improve circulation and alleviate congestion
Glass panel for watching the sunrise or stargazing at night
Choose from premium electric or wood fire heaters, includes stones for an authentic Baltic sauna
Tech spec
Seats 4 people
W235 x D220 x H225cm
Choose from wood burner heater or electric heater in 2 powers
Black stainless steel electric 7kW or 9kW Harvia Cilindo heater with stones
Black cast iron Harvia wood burner with stones
Heats up in just 30 minutes
40mm thermo spruce wooden frame
Full glass front panel
8mm tempered glass door
1/2 panoramic window
2 x LED lights with switch
2 or 3 foundation beams
2 x metal frame bands
2 x sauna room aspen benches
Thermo aspen flooring duckboard
Sauna ventilation valve
Roof shingle for protection and insulation
5 year manufacturer's warranty for peace of mind
All about me
Elevate your wellness journey and introduce Hekla saunas into your garden. With the seamless blend of Baltic sauna traditions and Nordic workmanship, you can enjoy tranquillity in your outdoor space. Handcrafted with eco-consciousness at heart, each of our saunas is a testament to sustainable craftsmanship that harnesses natural materials. Our 210cm cube sauna is perfect for families and friends.
Create your own spa sanctuary with panoramic views
Reveal a realm of wellbeing benefits with Hekla saunas that effortlessly enhance your health. Step into a realm of relaxation, a calming sanctuary to unwind in after a demanding day. An expansive glass panel allows you to enjoy the starlit sky at night, or the rays of the morning sun, all from your very own cosy haven. It's a perfect retreat for precious 'me time', as well as being a space to relax with friends and family.
The gentle warmth of saunas encourages the release of endorphins which helps with deeper sleep. Feel your circulation improve and muscles rejuvenate, whether you've had a tough workout or a hard day at work. If you suffer with arthritis or persistent pain, sauna heat can help provide relief. Dry or sensitive skin can also benefit from humidity, while some people find perspiration helps with a boosted metabolism, and a detoxified body to shed a few pounds. Sprinkle water onto the sauna stones for a refreshing burst of steam and extra humidity. Don't forget, moderation and hydration are key, if you have any health concerns or are pregnant, consulting a healthcare professional is a wise move. Get more advice in our guide to dry heat in saunas, and learn more about choosing the right sauna for your home or garden in our guide.
Built sustainably using natural Nordic materials
Hekla saunas are built from Thermowood, a 100% natural material from Nordic Spruce. Sourced responsibly from European forests, our saunas are a tribute to sustainability. Thermowood's heat-treated strength prevents it from succumbing to humidity, outclassing ordinary wood in durability, so you can worry less about it warping, swelling or decaying. With roof shingles as protective shields, your sauna can withstand the elements, ensuring lower energy bills and a potential bump in your property's value.
Powered by nature or electricity 
Choose from either a wood burner or electric heater for your new sauna. In a glossy black stainless steel build, our premium Harvia electric heater is adaptable to your setup - whether nestled within your bench or in front of the glass, you can also choose from either 7kW or 9kW. Customisable controls give you the reins to tailor the heat to your perfect temperature. Electrify your sauna experience, with both power and efficiency. 
Harvia wood burners provide cleaner, more efficient combustion and environmental friendliness. With a painted black finish, cast iron details, and steel encasing surrounding each stone section, you're guaranteed an authentic Baltic experience. Rear connection pipes connect directly to your chimney system, for additional safety and peace of mind.
At Hekla, our saunas aren't just structures; they're portals to serenity, crafted for you, your health, and the planet.
Video
FAQs
How can Hekla saunas benefit my health? 
Saunas can improve your body and mind in a number of ways:
Relaxation - destress the body and mind
Circulation - increases blood flow
Detoxification - perspiration helps flush out toxins
Pain relief - soothes aching muscles and joints
Skin health - humidity benefits dry and sensitive skin
Weight loss - helps increase body's metabolism
Sleep - facilitates a deeper night's sleep
Social connectivity - peaceful space to relax with loved ones
Why choose a cube sauna for my garden? 
Cube saunas have a distinctive design with a spacious glass panel window, so you can enjoy your garden even on the coldest winter days. With a slower warming time than barrel saunas, they are perfect for creating a therapeutic experience.
How long will the sauna take to heat up?
The sauna will take only 30 minutes to heat up. The ideal temperature should be between 60 and 70c.
Where can I install my sauna?
Hekla saunas are designed to be used outdoors, and can be installed on a flat, solid base.
How do I order?
Click 'buy now' above or complete a finance form if required 
We'll call you back to arrange a site survey, which are usually by phone or video call
We'll organise a delivery date
Or, if you visit one of our showrooms, we'll organise everything there and then.