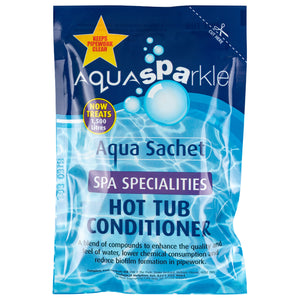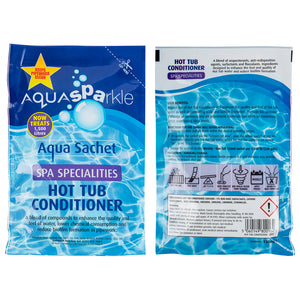 AquaSPArkle Hot Tub Conditioner Spa Specialities Aqua Sachet
Features we love
Soluble conditioner to improve the look and feel of your tub's water 
Easy to use sachet for no mess, no guess, no stress 

Removes bacteria and impurities for a cleaner soak

Reduces the amount of sanitiser needed
Prevents build up of scale in pipework
Contains lavender oil for a more relaxing soak
Prolongs the life of your hot tub  
All about me
AquaSparkle Hot Tub Conditioner is a high-quality product designed to keep your hot tub clean and clear. The blend of compounds in the formula is effective at removing bacteria and other impurities from your hot tub water, improving its look and feel, as well as preventing build up of scale and biofilm in your spa's pipework. The convenient sachet packaging makes it easy to use and store. 
Hot tub water conditioner is essential for maintaining the cleanliness and longevity of your hot tub, as well as reducing the amount of sanitisers you need, saving you time and money. Conditioning your spa's water will help ensure that you can enjoy it for many years to come.
How to use
Use weekly by pouring the contents of the sachet into your hot tub's water when the jets are switched on. Check that your spa's pH is correctly balanced as usual. One sachet is suitable for 1,500 litres of water. 
FAQs
What is hot tub conditioner?
Hot tub conditioner is a blend of compounds designed to improve the quality and feel of your hot tub water - for a sparkling spa! This gives you softer water for conditioned skin and a more luxurious bathing experience. It also reduces the amount of sanitiser needed, prevents build up of scale and prolongs the life of your tub.
If you need more advice on keeping your tub water sparkling fresh, read our hot tub maintenance guide.