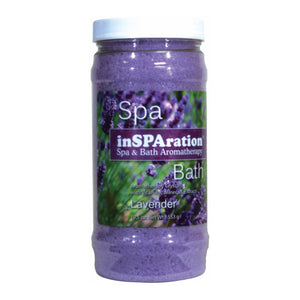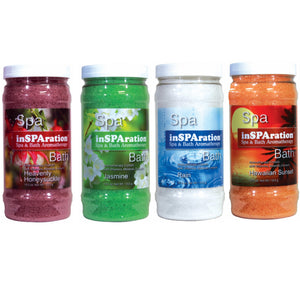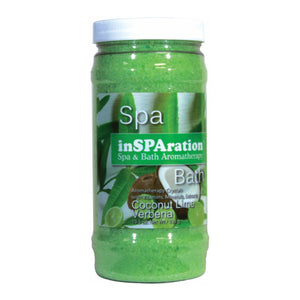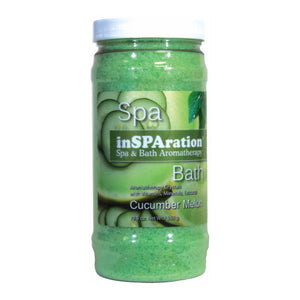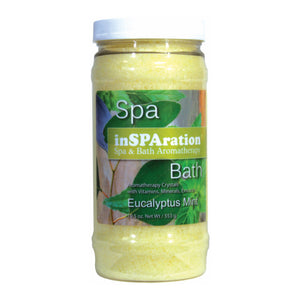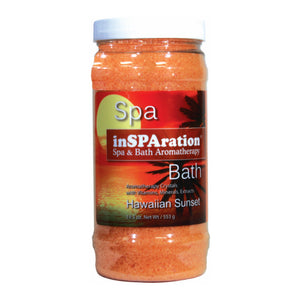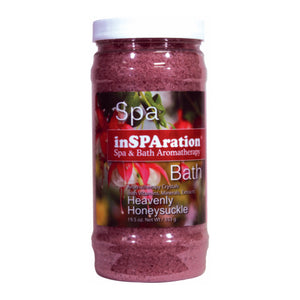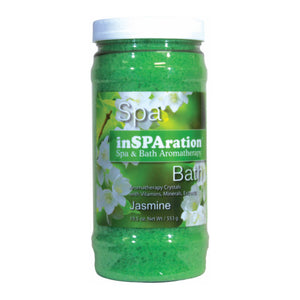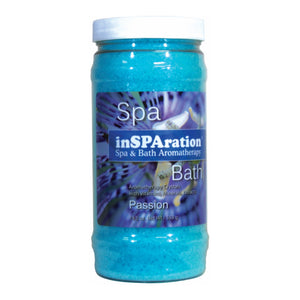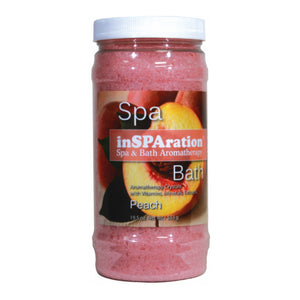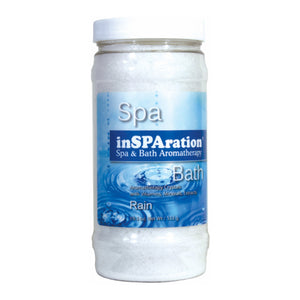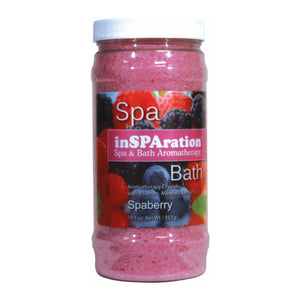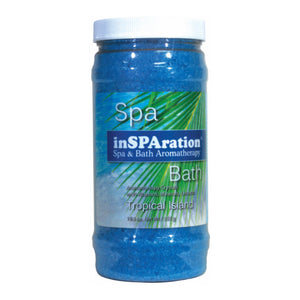 InSPAration Hot Tub Scents Aromatherapy Crystals
Features we love
Aromatherapy crystals for your hot tub, swim spa or jetted bath 
12 scents to choose from that soothe your mind and body 
Enhanced with vitamins and moisturiser to soften skin 
Masks chlorine odours without affecting pH balance 
Tailor the strength of aroma to your preference 
Create your own spa in your back garden… or bathroom!  
40 years of 

InSPAration aromatherapy expertise 
All about me
InSPAration Spa aromatherapy crystals are ready to use blend of aromatherapy crystal specifically formulated for spas, hot tubs and jetted baths. Enhanced with vitamins, minerals and natural extracts, inSPAration's special formula leaves skin soft and tired muscles rejuvenated. Masks chemical odours and will not clog filters or affect water chemistry.
The InSPAration RX Crystals range consists of twelve fragrances and are made with Epsom Salt (Magnesium Sulphate) and Spa Salt and are available in 553g Jars. Enhance your hot tub experience with a soothing fragrance. Some scents can have a profound influence on our mood hot tub fragrances can have a positive effect on physical and mental health.
Scents
Your new favourite scent! 
Coconut Lime Verbena
Rain
Cucumber Melon
Hawaiian Sunset
Peach
Tropical Island
Jasmine
Heavenly Honeysuckle
Spaberry
Passion
Lavender
Eucalyptus Mint
FAQs
How do I use inSPAration aromatherapy in my hot tub? 
We recommend pouring approx 4 to 6 oz directly into your hot tub. The more scent you use, the stronger the aroma. Then sit back, relax and let the crystals work their magic! 
How do I choose aromatherapy without being able to smell them?
We have two showrooms, in Hull and Leeds that stock a range of aromatherapies for you to smell before you buy. We understand that many of our customers are based further afield and are only able to purchase from us online, so how do you know you will like the smell?
We suggest you start by deciding what you want to gain from using aromatherapy in your hot tub. Is it simply for relaxation, or do you want to help with your breathing, muscle soreness or stress levels? All our aromatherapies contain a description on how that scent will benefit your body and mind. Popular scents such as eucalyptus mint or lavender you will have most likely smelt before.
What are the benefits of aromatherapy in hot tubs?
Aromatherapy can enhance your hot tub experience in a range of ways including increasing relaxation, soothing muscles, reducing stress, masking the smell of chlorine, and helping to prevent dry skin after a soak. There are so many different options available, made specifically to target multiple needs of your mind and body. 

Find out more about hot tub aromatherapy benefits here.