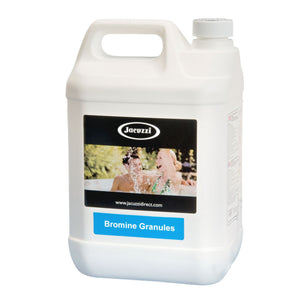 Jacuzzi® Hot Tub Bromine Granules
Features we love
Top grade bromine granules for hot tubs, spas and more
Keeps your spa in the best condition all year round
Works rapidly, ideal for daily use to keep water crystal clear and clean
Kinder to sensitive skins than chlorine 
Kills unwanted bacteria and controls algae
Jacuzzi® premium quality you can trust
All about me
If you're looking for a safe and effective way to sanitise your hot tub or spa water, our Jacuzzi® Bromine Granules are the perfect solution. These granules are specifically formulated for use in hot tubs and spas and are a great alternative to chlorine for sanitising your water.
Our Jacuzzi® Bromine Granules are easy to use. Simply sprinkle them directly into the tub once it's over 20c, then let them work their magic. The bromine will disinfect your hot tub or spa water, keeping it clean and safe for you and your family to enjoy.
One of the great things about bromine is that it's kinder to skin than chlorine, making it a better choice for those with sensitive skin. Experience the Jacuzzi® difference for yourself.
Need to know
This product is sold in 1kg and 5kg, just select your required size.
*We advise to use test strips to test sanitiser levels, pH levels and Total Alkalinity (TA).
How to use
Bromine granules can be applied directly into hot tubs when temperatures exceed 20C. If below this temperature, pre-dissolve them in 1L of clean warm water, stirring well to ensure the granules are fully dissolved. Carefully add the solution into your hot tub water whilst the pump is turned on.
Your hot tub bromine level should always be between 3-5ppm (parts per million). How frequently you need to add bromine will depend on your usage and bathing habits. It could be daily, every two to three days or weekly. For 3mg/l add 12g per 1500 litres.
Top tip: 10ml = approximately 10g
If you need more information on using bromine in your tub, check out our bromine hot tub maintenance guide.
FAQs
What is bromine?
Bromine is a popular hot tub sanitiser, an alternative to chlorine. It's more suitable for those with sensitive skin and has a less harsh odour than chlorine. It's also more stable, so the levels stay more consistent.