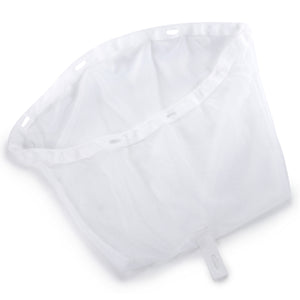 Jacuzzi® 6 Hole Skimmer Debris Bag - 6570-392
All about me 
Looking for an easy way to keep your hot tub or spa clean and clear of debris? Our Jacuzzi® Skimmer Debris Bag is here to help. Designed to remove floating insects, leaves, and other floating debris, this handy accessory makes it easy to keep your hot tub looking its best.
Our net's six top fastening filter clip holes will keep it securely in place, so you can count on it to keep your hot tub clean and clear.
If you want to keep your hot tub or spa looking its best, a debris bag is an essential accessory. Start enjoying a cleaner, clearer hot tub.
Need to know 
This net is used in Jacuzzi hot tubs from 2007-2013, J300™ models up to 2014 and all JLX™ models.
Part No.6570-392.