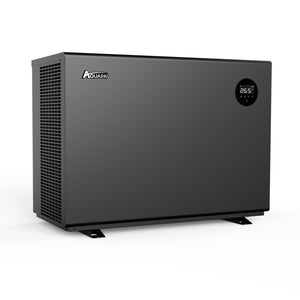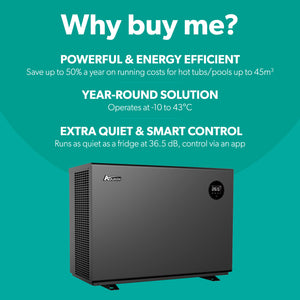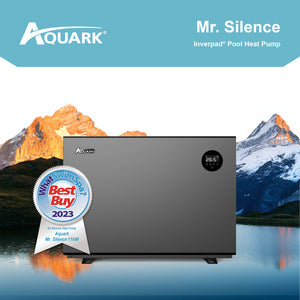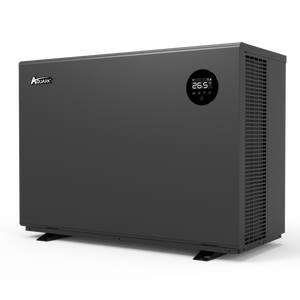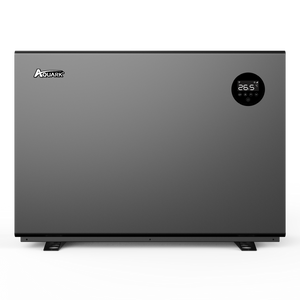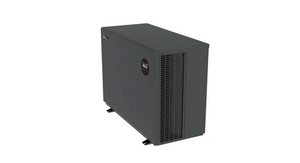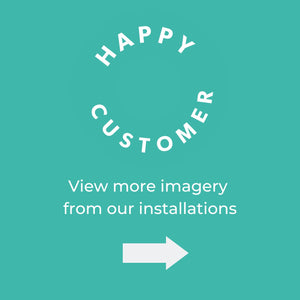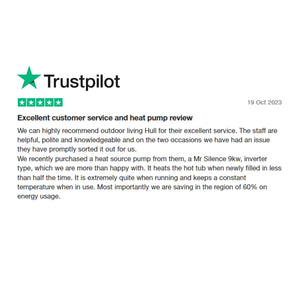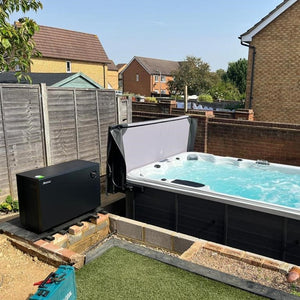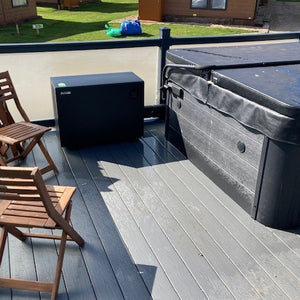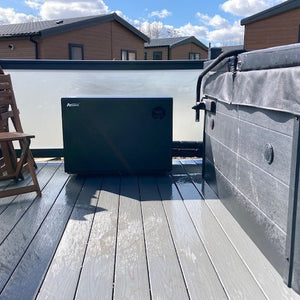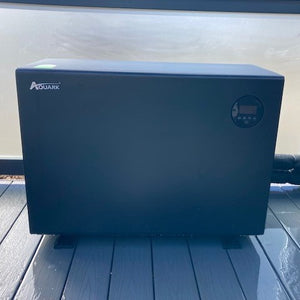 Aquark® Mr Silence 9kW Air Source Heat Pump for Hot Tub/Swim Spa/Pool
Features we love
Huge saving on running costs - lower your energy bills by up to 50% a year
Environmentally friendly - save the planet, save your pocket
Works in a temperature variant of -10 to 43 degrees for use all year round
Suitable for hot tubs, swim spas and larger pools up to 45m³
Extremely powerful at 9kW for faster heating times
Adapts intelligently to heating demands with average COP of 10.4
Extra quiet - as silent as a fridge starting at just 36.5dB
Rust-free aluminium cabinet and high-quality Mitsubishi compressor
Easy to use smart controls via the app or display panel 
All about me
Introducing Aquark's Mr. Silence air source heat pump, the spa companion that not only enhances your relaxation but delivers exceptional energy efficiency. Whether you have a small spa or swimming pool, this 9kW heat pump will heat pools up to 45m³. 
Whisper quiet serenity
Say goodbye to noisy interruptions during your soak. Thanks to the patented airstream design technology, this heat pump operates as quietly as your fridge, ensuring that your relaxation remains undisturbed.
Mr. Silence isn't just kind to your ears; it's also eco-friendly. By reducing your energy consumption by up to 50% a year, it'll save the planet as well as your pocket.
Smart, speedy and energy-efficient heating
With a remarkable coefficient of performance (COP) of up to 16, you can enjoy a warm and inviting hot tub without worrying about soaring energy bills.
A powerful 9kW heating capacity makes sure that your spa heats up quickly, allowing you to get in your tub sooner. Control the pump effortlessly with easy-to-use controls on the display panel, or remotely via the mobile app.
Year round savings
Mr. Silence isn't limited by the seasons. It's built to perform flawlessly in temperatures ranging from -10°C to 43°C, making it a versatile choice for year-round relaxation.
In the colder months the heat pump starts at full speed, swiftly heating up your spa. As it approaches your desired temperature, it automatically transitions to a quieter, more energy-efficient mode, all while maintaining optimal performance. 
Built to last
Constructed from a rust-free, aluminium alloy cabinet, it'll withstand all sorts of weather. Equipped with a high-quality Mitsubishi compressor and a twisted titanium heat exchanger, Aquark's air source heat pump is designed for durability, saving you money for years to come.
Need a more powerful air source heat pump? Shop our 11kW option.
Tech spec
Dimensions: (LxWxH) 890 x 430 x 657mm
Weight: 55kg
Aluminium alloy rust free cabinet
Advised pool volume: 20~45 m³
Operating air temperature: -10°C~43°C*
Heating capacity (air 27°C, water 27°C, humidity 80%): 9.0kW
Coefficient of performance (COP) Range: 14.0~7.1
Average COP at 50% Speed: 10.4
Heating capacity (air 15°C, water 26°C, humidity 70%): 6.5kW
Coefficient of performance (COP) Range: 7.3~4.7
Average COP at 50% Speed: 6.4
Power supply: 230V/1Ph
Twin-rotary Mitsubishi DC compressor
Twisted titanium heat exchanger
Noise: 36.5 dB(A) - 46 dB(A)
Refrigerant: R32, more efficient and ecological than standard R410A
Easily adjust temperature using the control panel, or via the InverGo app over WiFi
*The colder the ambient temperature and below 15°C, the longer it will take to heat up to your ideal working temperature.
How does an air source heat pump work?
A heat pump works like an air conditioner, only in reverse. In essence, it takes air from the atmosphere, extracts the heat and transfers it to the water passing through the pump.
From a technical perspective, a heat pump pushes a refrigerant through its copper heat exchanger coils. Then, the compressor and condenser work together to change the refrigerant's state from a cool liquid to a warm gas.
In heating mode, the liquid refrigerant boils as it travels through the coils. Any heat carried within the refrigerant is stored until it evaporates; then, the gas is compressed, which increases its temperature. Finally, the gas moves through a pressure valve, which returns it to a liquid state while transferring the heat to the element.
Find out more about how air source heat pumps work here.
Videos
How do I order?
Place your order using the 'add to basket' button on this page. From there, one of our experts will contact you to ensure this heat pump is compatible with your setup and can be fitted safely. 
Delivery is included in the price. Let us install it for you, or do it yourself if you're a competent DIYer