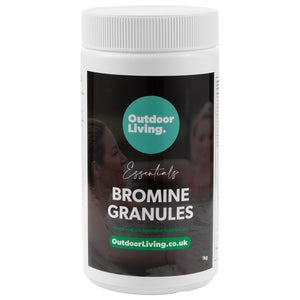 Hot Tub Bromine Granules - 1kg | Outdoor Living
Features we love
Bromine granules for hot tubs, spas and more
Keeps your spa in the best condition all year round
Can used daily to keep water crystal clear and clean
Kinder to sensitive skins than chlorine 
Kills unwanted bacteria and controls algae
All about me
Bromine Granules are a gentle yet highly effective way to sanitise and maintain clean and clear hot tub water.
Unlike chlorine, which can be harsh on skin and cause irritation, these granules are gentler and won't leave you feeling dry or itchy. Our Bromine Granules are also highly effective at controlling algae growth, ensuring that your hot tub stays free of unsightly and potentially harmful buildup.
Simply add the recommended amount of granules to your hot tub's water, and you can enjoy crystal clear and clean water all season long. With regular use, they will help to keep your hot tub water sanitary and inviting, making it the perfect choice for hot tub owners who want a gentle yet effective way to keep their spa water in top condition.
Need to know 
The granules are sold in a 1kg container.
The granules are relatively pH neutral which means you should maintain a pH level between 7.2 and 7.6 when using this product.
How to use
Bromine granules can be applied directly into hot tubs when temperatures exceed 20C. If below this temperature, pre-dissolve them in 1L of clean warm water, stirring well to ensure the granules are fully dissolved. Carefully add the solution into your hot tub water whilst the pump is turned on.
Your hot tub bromine level should always be between 3-5ppm (parts per million). How frequently you need to add bromine will depend on your usage and bathing habits. It could be daily, every two to three days or weekly. For 3mg/l add 12g per 1500 litres. Top tip: 10ml = approximately 10g
We advise to use test strips to test sanitiser levels, pH levels and Total Alkalinity (TA).
FAQs
What is bromine? 
Bromine is a popular hot tub sanitiser, an alternative to chlorine. It's more suitable for those with sensitive skin and has a less harsh odour than chlorine. It's also more stable, so the levels stay more consistent.
If you need more information on using bromine in your tub, check out our bromine hot tub maintenance guide.