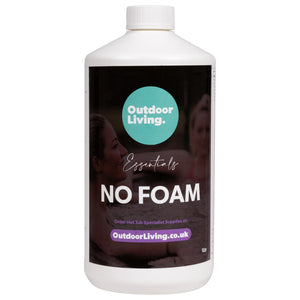 Hot Tub No Foam - 1L | Outdoor Living
Features we love 
Anti foam liquid for hot tubs, swim spas and more
Prevents foam and suds caused by soaps and detergents
Helps maintain crystal clear water
Add straight to your tub for it to work right away
Doesn't affect pH levels and can be used alongside most sanitisers 
All about me
Are you tired of dealing with foamy water in your hot tub or spa? Our Outdoor Living No Foam formula is here to help. Specially formulated for use in spas, this powerful treatment effectively prevents foaming, leaving you with crystal clear water that's ready for use.
Our anti foam formula is also easy to use, simply add it to your hot tub or spa water and let it work its magic. With its powerful formula, you can count on it to keep your water foam free.
Need to know
This product is supplied in 1L
How to use
As soon as foam starts appearing, add a small amount of no foam to your tub's water - normally no more than 20ml - while the jets are turned on. Use as and when you notice foam.
FAQs
What causes hot tub foam?
Foamy hot tub water is usually caused by contaminants like hair products, deodorant, moisturiser, perfume, drink spillages and cheap or excessive use of hot tub chemicals. We sell chemicals that are formulated to an exceedingly high standard to prevent these issues, you can browse through our range here. We also advise against washing any swimwear in hot tubs to prevent foam from washing detergent.
How to remove foam from hot tub water
Start by testing the water for a chemical imbalance, beginning with your chlorine/bromine and pH levels. Try using your usual chemicals to restore the balance. If that doesn't work, you could use no foam that clings to the pollutants in the water and sinks them to the bottom so they can be removed by the filter. Also make sure you replace the hot tub water every three to four months and clean the filters weekly, replacing every 12 months at least.
How to prevent hot tub foam
The easiest way to stop the hot tub water from becoming foamy is to shower before getting in. This will rinse off all cosmetics, perfumes, moisturisers, and tanning products. To prevent drink spillages in your hot tub, try a Spa Caddy Table. They're designed to keep your drinks upright; however powerful your jets are.
If you need more advice on keeping your tub in tip top condition, check out our guide on what to do if your hot tub water is foamy.