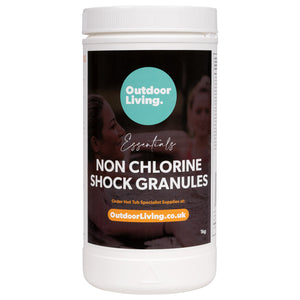 Hot Tub Non Chlorine Shock Granules - 1kg | Outdoor Living
Features we love
Non-chlorine shock granules for hot tubs, spas & more
Oxidises water & removes contaminants
Helps chlorine work better and reactivates bromine
Clears cloudy water & restores water clarity quickly
Use your hot tub or spa in just 20 minutes
All about me
These rapid dissolving chlorine-free shock granules are perfect for oxygenating water in your hot tub or spa. If used with chlorine, it activates free chlorine to kill bacteria more efficiently. Or, if used with bromine, it will regenerate the bromide ions.
Use as a weekly treatment or after prolonged use of your hot tub or spa to eliminate odours, eye burn, oils, lotions, body perspiration and cosmetic residues. Regular use will leave your water smelling fresher and your skin feeling softer.
Need to know
Pack size: 1kg
Usage: 11g per 1000 litres/220 gallons, 22g per 2000 litres/40 gallons, 50g per 4545 litres/1000 gallons
How to use
Remove your hot tub or spa cover, so oxygen can reach the water.
Ensure that the pH balance is correct - between 7.2 and 7.6 with a chlorine sanitiser or 7.0 to 7.4 with a bromine sanitiser.
Make sure that the chlorine/bromine level is between 3-5mg/l.
Pre-dissolve the granules as per the dose on the pack.
Once the granules are fully dissolved, pour into your spa by the water inlets with the pump turned on. This will allow them to circulate evenly.
Use 11g per 1000 litres/220 gallons, 22g per 2000 litres/40 gallons, 50g per 4545 litres/1000 gallons
Wait for at least 20 minutes before using your spa. Please keep the cover off for the duration.
FAQs
What is Non-Chlorine shock?
They are an odourless oxidiser that eliminates contaminants like chloramines, oils and organic compounds in hot tub or spa water. Whereas sanitisers (like chlorine or bromine) kill bacteria and harmful organisms like algae. In essence, non-chlorine shock granules allow you to kill waterborne bacteria with less sanitiser.
How long do I have to wait before using my hot tub or spa?
It's safe to use your hot tub or spa in as little as 20 minutes or 24 hours after adding the granules to your water.
What is oxidisation?
Oxidation occurs when chloramines, oils and organic compounds break down in the water. This allows sanitisers (chlorine and bromine) to work efficiently and kill bacteria.
What are Chloramines?
Chloramines are created from chlorine during the sanitising process. Oxidising (or shocking) breaks down chloramines, making them revert to chlorine, which keeps levels regulated.
Will non-Chlorine shock granules affect Chlorine/Bromine levels?
No, it actually boosts levels. When these granules are added to water with a build-up of chloramines, they revert to chlorine. As does bromine, which renews once oxidised (or shocked).
My water has become cloudy; will it help?
Yes, it'll restore the water and make it crystal clear.