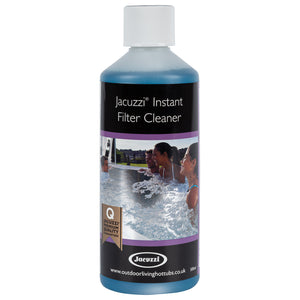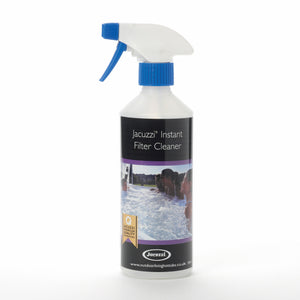 Jacuzzi® Instant Hot Tub Filter Cleaner Spray - 500ml
Features we love
500ml filter cleaning spray for a regular cleaning
Removes grease, scale, oil & dirt that has collected
Ensures your filters continue to work effectively
Use as part of your spa or hot tub cleaning routine
Suitable for use with any brand of filter
Jacuzzi® premium quality you can trust
All about me
Keep your filters thoroughly clean with this Jacuzzi® filter cleaner. Regular cleaning of your filters helps maintain and restore performance, so they're left to do their job of keeping water crystal clear. It'll also help prolong the life of your filters, avoiding having to buy new ones so soon. Experience the Jacuzzi® difference for yourself.
Need to know
Pack size: 500ml
Usage: Light spray of liquid over filters
Method: Soaking for 15 mins
If your filters are cleaned at least once a week your filter's longevity should last beyond 6 months before you need to replace, depending on usage.
How to use
It's easy to use; simply spray onto your filters lightly, then allow your filters to soak for fifteen minutes, rinse with fresh water, leave to completely dry, then re-install, ready for your hot tub or spa's next use. Repeat once a week.
FAQs
How often should I clean my hot tub filters?
We recommend rinsing your hot tub filters once a week and giving them a full clean with Jacuzzi filter powder every 4-6 weeks. This will ensure dirt, debris and pollutants are cleared quickly and effectively and will extend the life of your filter. A clean hot tub filter gives you more accurate results when testing the chemicals, meaning you could save money.
If you need more advice on keeping your filters clean, read our how to clean your hot tub filters guide.