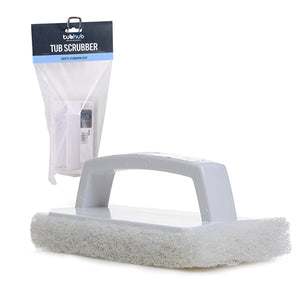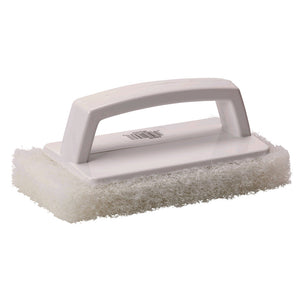 Features we love
Cleans the waterline of your tub with ease
Simply glide the scrubber to remove dirt & grime
Effective on stubborn build up and scum lines 
Gentle on your spa's surface to prevent damage 
Use after every dip for optimum results
All about me
Our tubhub Hot Tub Scrubber is a must-have for any spa owner. This handy tool is designed to make cleaning the waterline of your hot tub a breeze.

Made from a tried and tested material, it is gentle on your hot tub's surface while effectively removing stubborn dirt and grime. With its easy-to-use design, simply glide the scrubber along the waterline to effortlessly remove any buildup. Keep your tub looking its best with tubhub's Hot Tub Scrubber.
How to use
For best results, use after every dip by gliding along your tub's waterline, removing scum lines as you go.
FAQs
How often should I clean my hot tub? 
Each part of your hot tub needs a good clean at different intervals. It all comes down to how often you use your spa, water care products, and maintenance routine. As a rough rule of thumb, we recommend cleaning the following parts:
After each use:
Wipe the shell to remove water lines using a clean damp cloth. Or, for stubborn marks, try our tub scrubber
Weekly
Clean the filter
Check and rebalance the pH and sanitiser levels
Shock dose the water
Quarterly
Clean your pipes with a pipe cleaner
Drain and refill your hot tub
Clean the interior shell
Annually
If you need more advice on keeping your spa spotless, read our hot tub cleaning guide.