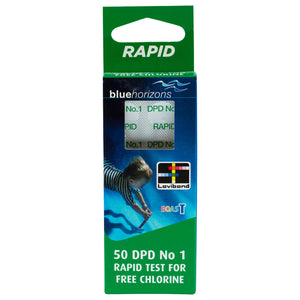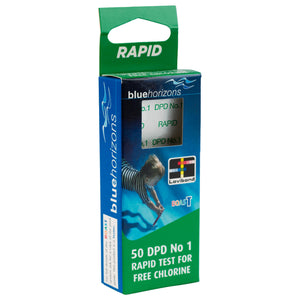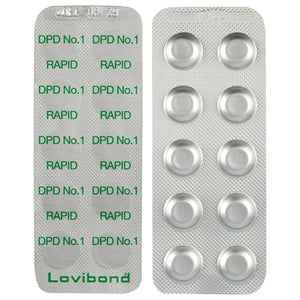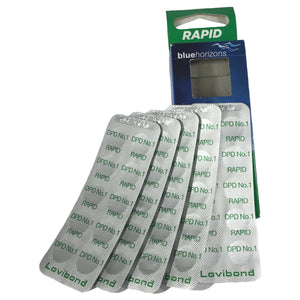 Blue Horizons Lovibond DPD No.1 Rapid Chlorine/Bromine Water Test Tablets - Pack of 50
Features we love
Testing tablets for hot tubs, spas & more
Check chlorine & bromine levels daily
Quick and easy to use with rapidly dissolving tablets 
For use with all colour comparison test kits
Accurate results you can trust with Lovibond's 130 years of water analysis expertise!
All about me
Our pack contains 50 DPD No.1 Rapid Water Test tablets, which are a quick and easy way to check the water quality in your hot tub. These tablets can be used to test for free chlorine and free bromine, two important chemicals that help to keep your hot tub clean and safe for use.
By regularly testing your hot tub water with these tablets, you can ensure that the levels of free chlorine and free bromine are within a safe range. This will help to keep your hot tub water clear and free of harmful bacteria, so you and your family can enjoy a relaxing soak.
Our water test tablets are easy to use - simply follow the instructions to quickly test your hot tub water. With 50 tablets included in the pack, you'll have plenty of tests to last you.
Need to know 
Tests for:
Free Chlorine
Free Bromine
How to use
Simply immerse your water tester in your hot tub or pool, or fill a water sample into the chambers, add a tablet, and read the results. The water will change colour and the comparison scale makes it easy to read the values.
Blue Horizons uses the popular BOAST system of chemicals, to have hot tub or pool water to boast about:
B Balance your pool water for bather comfort & maximum chemical efficiency
O Oxidise to establish a sanitiser level then weekly to destroy bather wastes.
A Algae prevention. Stop algae establishing themselves in your pool water.
S Sanitise. Maintain a constant sanitiser level to prevent & kill bacteria.
T Testing. Test your pool water to ensure the correct levels.

FAQs
How often should I test my hot tub water?
We recommend you test your hot tub water daily whether your spa is in use or not. 
What should hot tub water be tested for?
Test your hot tub's water for sanitiser levels - whether that's chlorine, bromine or oxygen - along with pH and total alkalinity. This then allows you to make any chemical adjustments that may be required.
How long after shocking a hot tub can you test the water?
There is no set time to wait before using your hot tub. All brands give different recommendations, ranging from 20 minutes to 24 hours. However, before donning your swimsuit and stepping inside, we suggest using a test strip to ensure your chlorine levels are safe.
Top tip: Non-chlorine shock treatments don't sanitise the water. This means you can usually use your hot tub after approximately 20 minutes of adding the chemical.
If you need more advice on keeping your tub water sparkling fresh, read our hot tub maintenance guide.