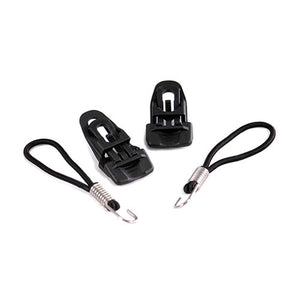 EasyKlip® Tie-Down Repair Kit for Hot Tub Cover Straps
Features we love
The world's strongest tarp clip - up to 5 times stronger than the rest
Clips anything, anywhere - ideal for covers on spas, cars or furniture
Superior strength nylon clips hold up up to 220lbs
Max stretch of 12-inches - fastens tight without tearing
The harder the pull, the tighter the grip
Stainless steel hooks (grade 204)
Easy on, easy off with no tools or sewing required
Weather resistant down to -5c - the more the wind blows the more secure the cover is
Includes 2 black midi clips and 2 8" black bungee cords
All about me
EasyKlip® is the world's strongest tarp clip, making it just perfect for temporary repairs to damaged spa cover straps. Featuring a unique gripping action, (the harder the pull, the tighter the grip), EasyKlip fastens just about anything to anywhere and takes seconds to attach.
The stainless steel hook allows for great weather resistance and the clips won't get brittle in the elements. Also suitable for car covers, fabric canopies or plastic banners, there's no clip stronger or more versatile.
How to use
Attach to your cover's apron/skirt. Fastens in seconds with no tools or sewing required. If the straps become too tight, remove them by getting a coin or flat head screwdriver and turning it while opening the clip.
Video