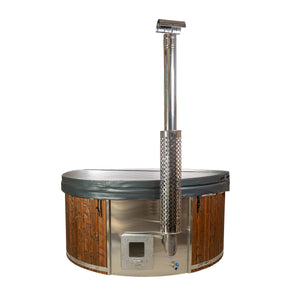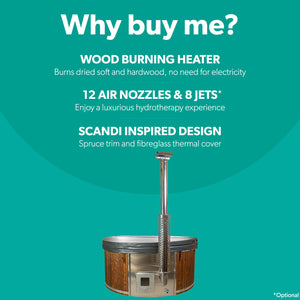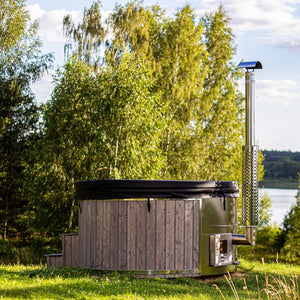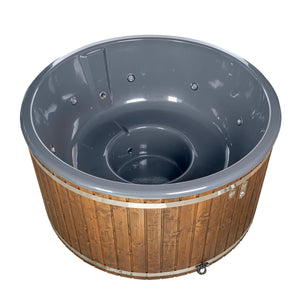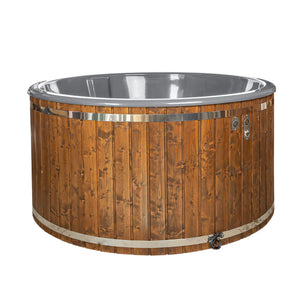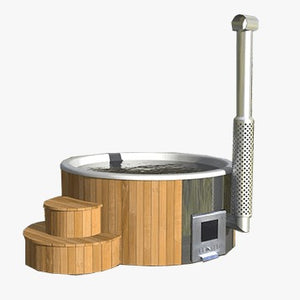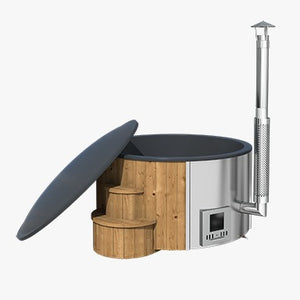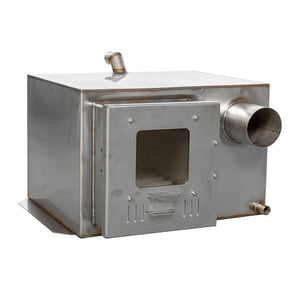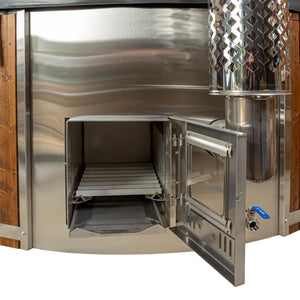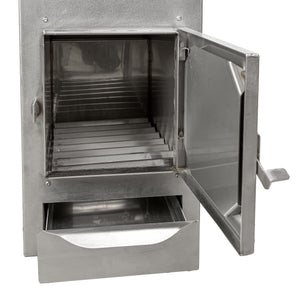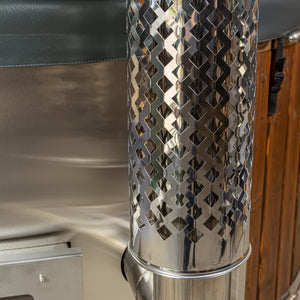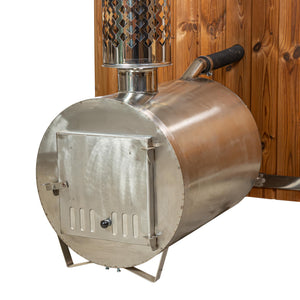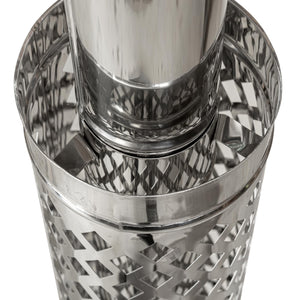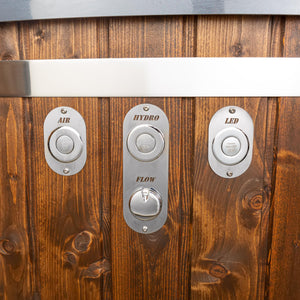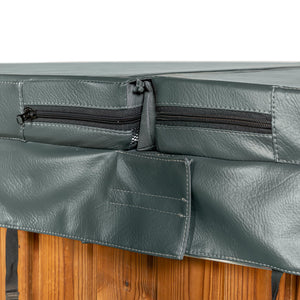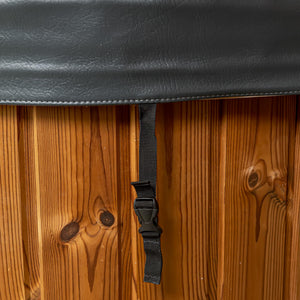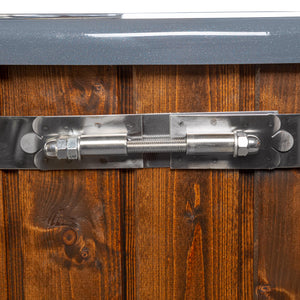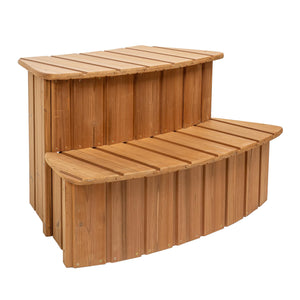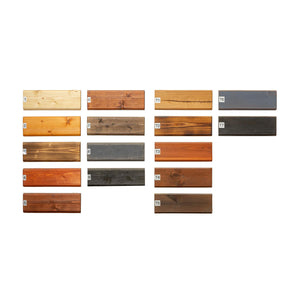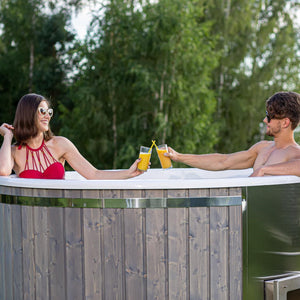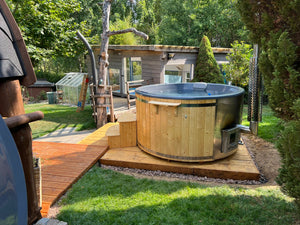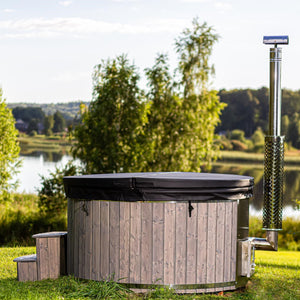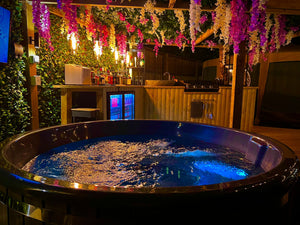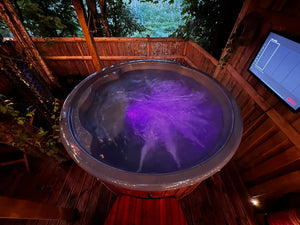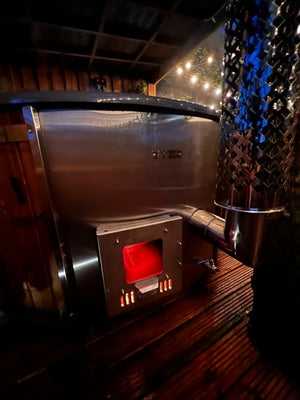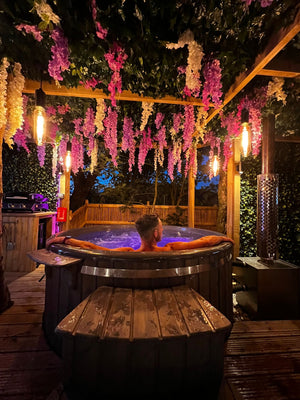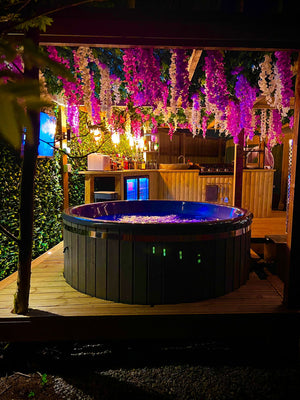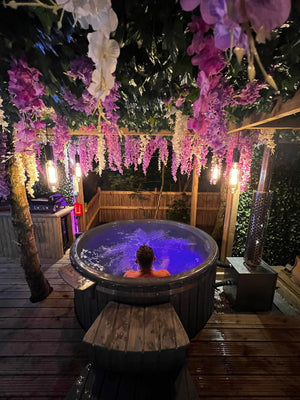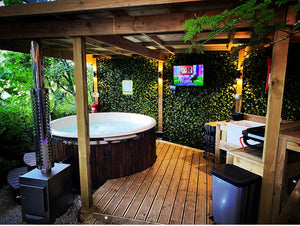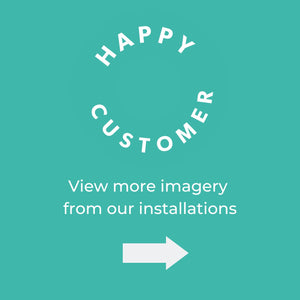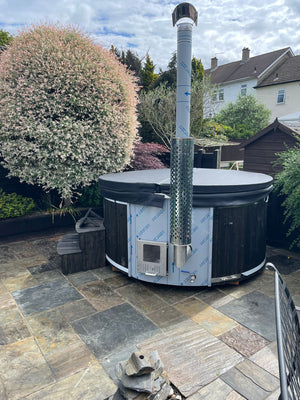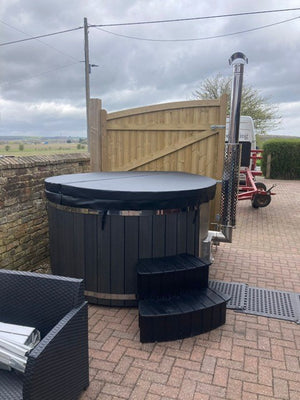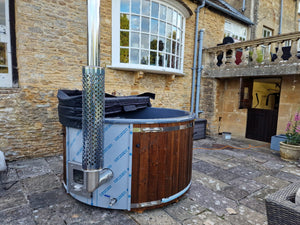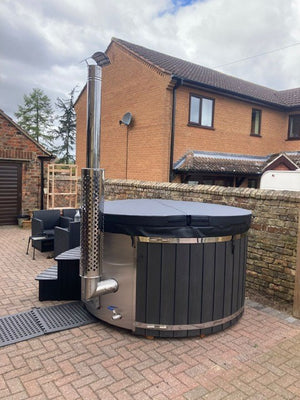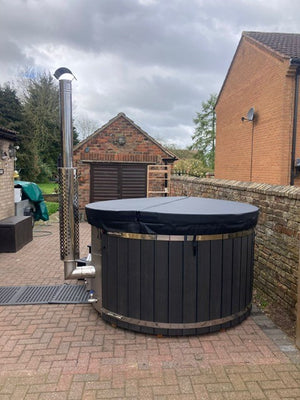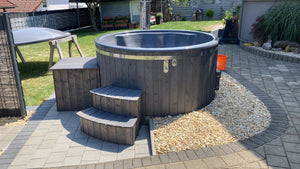 Outdoor Elite - 4 to 6 Person Wood Fired Hot Tub
Features we love
Scandi inspired with spruce trim & fibreglass top cover
Includes matching tiered wooden steps for easy entry
No electricity needed – there's a wood burning heater
Polyurethane foam insulation keeps water warmer for longer
Two stainless steel straps around the tub maintains it shape
Tech spec
Seats 4-6 people (bench seating)
Handmade round hot tub perfect for patios, terraces and smaller gardens
200cm x 200cm x 94cm
12 air nozzles
8 optional Jacuzzi jets for hydromassage
Optional LED lights
Bottle and glass holder 
Wood burning heater - powered by nature with no electricity bills
Stainless steel internal furnace
Burns both dried softwood and hardwood
Chimney heat guard for safety while you soak
Heats water in just 1.5 to 2.5 hours depending on the weather 
Water capacity: 1200L 
Weight (empty): 250kg 
Fibreglass structure with spruce trim
Scandi inspired design blends into your outdoor space 
Choose from multiple wood finishes
Wood treatment keeps it lasting for longer
2 stainless steel straps around the tub maintains it shape
Matching 2 tier wooden steps
Polyurethane foam insulation keeps water warmer for longer
Fibreglass thermal cover retains heat 
Please note: if your area is affected by clean air rules you will need to use a smokeless fuel
All about me
Built for pure relaxation, this stunning wood-fired hot tub is the perfect addition to any garden or smaller areas like patios that lack space. There are up to six seating positions with plenty of room for family and friends to enjoy. It's aesthetically pleasing, too, as thanks to the wooden exterior, it'll blend beautifully into your natural surroundings, so it'll look good all year round.
Massage and wellbeing
Get the most out of your soak wherever you sit. It includes 12 air nozzles and optional Jacuzzi jets placed in a specific formation to give you a soothing massage experience. Your body is left feeling revitalised and relaxed. It's perfect for light entertainment, too, as there's a bottle and glass holder, so you or your party needn't vacate, re-enter, and get comfortable again. This wood-fired hot tub really is a happy place.
Powered by nature
There's no need to worry about this hot tub adding to the ever-increasing electric bills as it burns softwood and hardwood. It takes as little as 1.5 to 2.5 hours to heat the water depending on weather conditions, plus the insulated fibreglass cover helps heat the water faster. The fuel heater is integrated, too, so there's no need to purchase a separate one.
Beautiful design
This elegant wood fire hot tub is a premium build, from its sleek white inner shell to the spruce wood trim and matching bespoke two-tiered steps. The wood has been pre-treated, too, to prevent rotting and to increase its lifespan. Two LED lights illuminate your bathing space so you can take your soak into the evening or simply guide yourself in. Plus, you can be sure of your safety with the chimney heat guard.
FAQs
How long do wood fired hot tubs take to heat?

Our wood fired hot tub takes only 1.5 to 2.5 hours to heat up, depending on weather conditions. You'll be taking a dip in no time!

Do wood fired hot tubs bubble?

If you choose a wood fired hot tub with jets then yes it'll bubble! We offer the option of jets in our wood burning hot tub

Why choose a wood burning hot tub?

Wood fired tubs have very low running costs. As well as saving on electricity, when not in use you can drain the water until you next need it. Not only that, they are perfect for recreating a traditional spa experience, all in the comfort of your own garden.

How do I sanitise my wood fired hot tub?

If you use your wood burning hot tub regularly we recommend using a gentle sanitiser. Avoid chlorine in particular to prevent damaging the wood, instead opt for an oxygen sanitiser in your spa's water.

What fuel can I use in a wood burning hot tub?

You can use both dried softwood and hardwood with our wood burning hot tubs.
How do I order?
Click 'buy now' above or complete a finance form if required 
We'll call you back to arrange a site survey, which are usually by phone or video call
We'll organise a delivery and installation date
On your delivery date, we'll install your spa and get it ready to use, which usually takes around two hours
Or, if you visit one of our showrooms, we'll organise everything there and then.