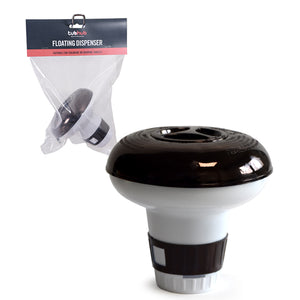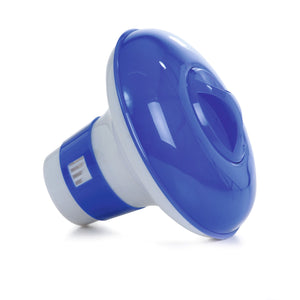 tubhub Floating Hot Tub Tablet Dispenser
Features we love
Feeder for 20g bromine, chlorine tablets or oxygen tablets
Slow release and safe dosing of hot tubs, swim spas & pools
Calibrated settings to release the correct dosage 
Easy refilling with removable cap 
All about me
Looking for a convenient way to dispense chlorine, bromine, or oxygen tablets in your pool or hot tub? Tubhub's floating dispenser is the perfect solution!
This handy dispenser allows you to easily and safely release tablets into your tub's water, so they dissolve slowly and evenly. Simply fill the dispenser with tablets and let it do the work for you!
How to use
Remove cap from the dispenser, fill feeder tube with your choice of 20g sanitiser tablet, then replace bottom cap. Adjust to your desired dosage settings.
FAQs
What is a floating dispenser?
A floating dispenser or feeder gradually releases sanitiser from chemical tablets in your hot tub, swim spa or pool. They're ideal for chlorine and bromine tablets. 
Are floating chlorine dispensers any good?
Use floating chemical dispensers for slow release and safe dissolving in your hot tub of chlorine, bromine or oxygen tablets. Hot tub tablet dispensers take the hassle out of chemical dosing to spas on a regular basis.
If you need more advice on keeping your tub water sparkling fresh, read our
hot tub maintenance guide
.