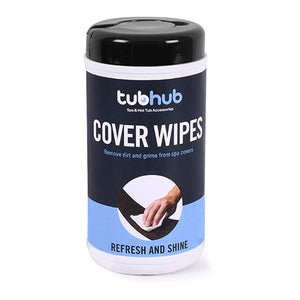 tubhub Hot Tub Cover Wipes - Pack of 35
Features we love
Refresh and shine your hot tub cover
Restores and protects your cover from harmful UV rays
Lifts off dirt, dust and grime in one quick wipe down
Gentle on surfaces and streak-free
Cover cleaning without the fuss
Handy pack of 35 wipes
All about me
Our tubhub Cover Wipes make cleaning your spa cover easy. They're specifically formulated for hot tub covers and are perfect for a quick wipe down to remove any dirt or grime. Gentle on surfaces, you don't have to worry about leaving any streaks behind.
Refresh and shine with these wipes and restore your cover from the sun's UV rays. These convenient wipes come in a pack of 35, so you always have plenty on hand. Keep your hot tub cover in tip top condition without the hassle! 
How to use
Simply wipe down your cover to give it a quick clean, no other cleaning agents are needed!
FAQs
What can I use to clean my hot tub cover?
There are hundreds of cleaning products to choose from, so we recommend using those made for your hot tub's specific make and model. Click here to see our full range of cleaning tools.
How often should you clean hot tub covers? 
We recommend cleaning your spa's cover every one to three months. This will keep it moisturised, protected from UV damage and extend its lifespan. 
If you need more information on keeping your spa clean, read our hot tub cleaning guide.