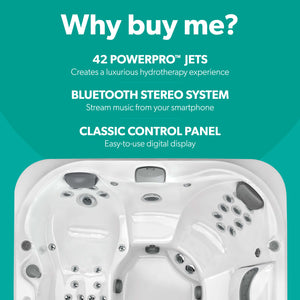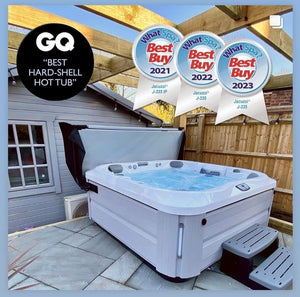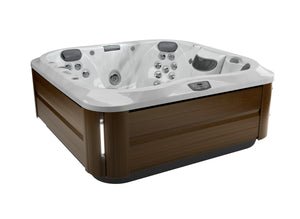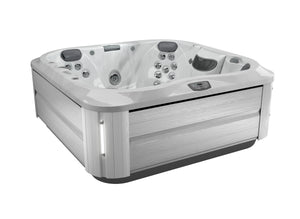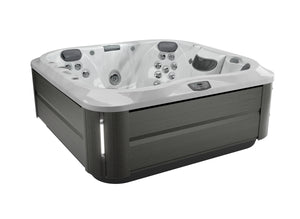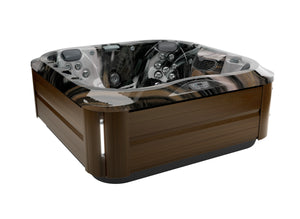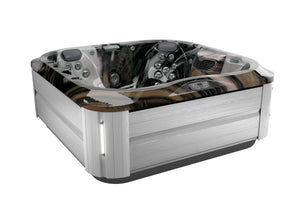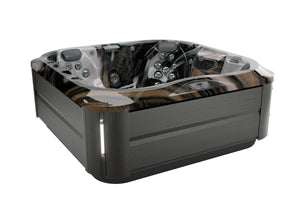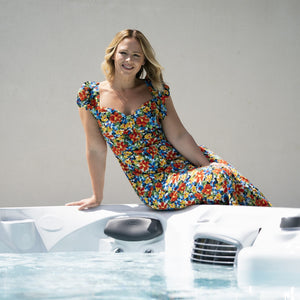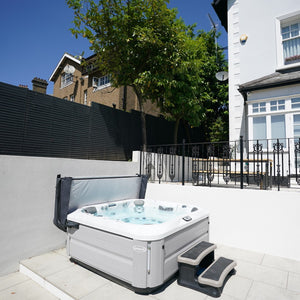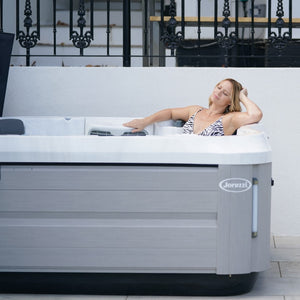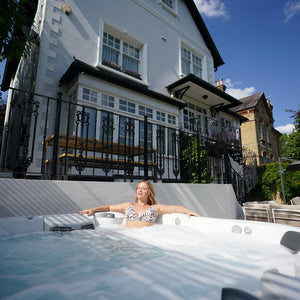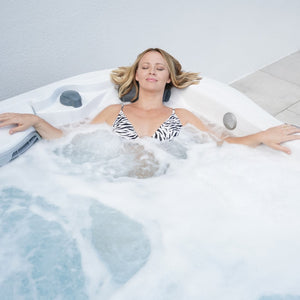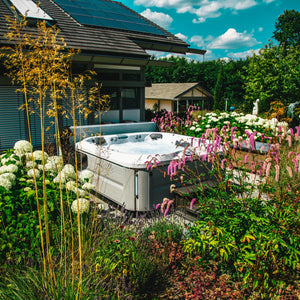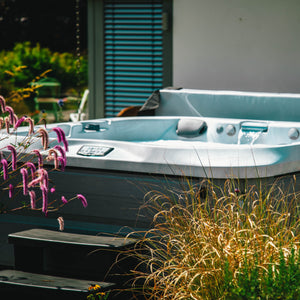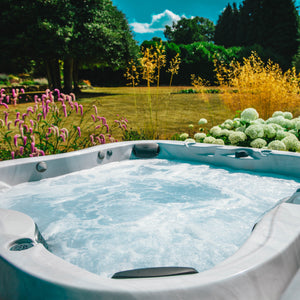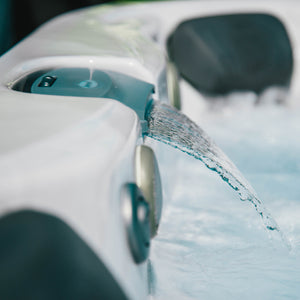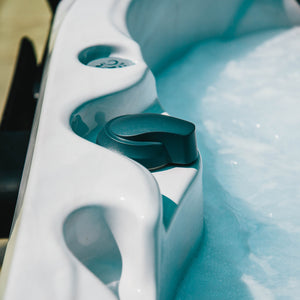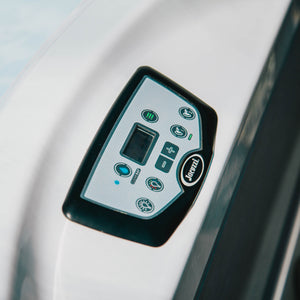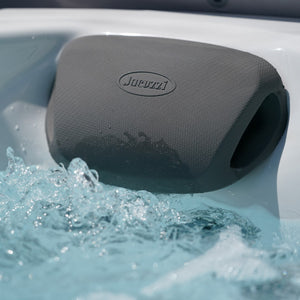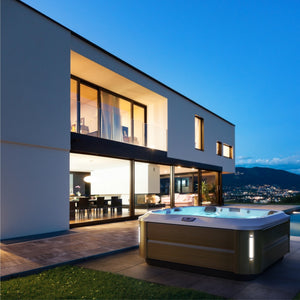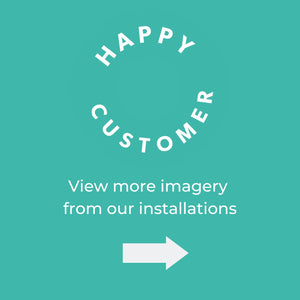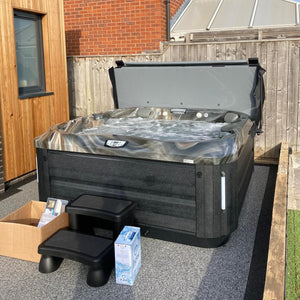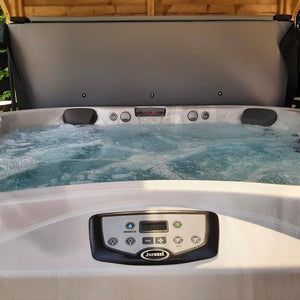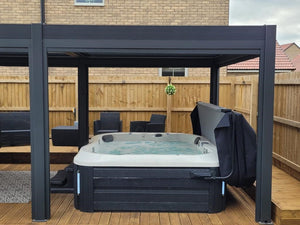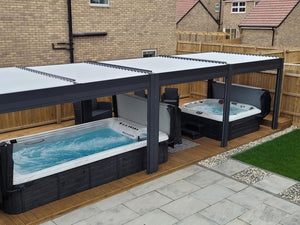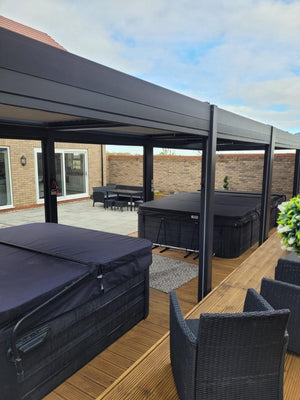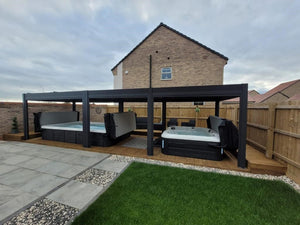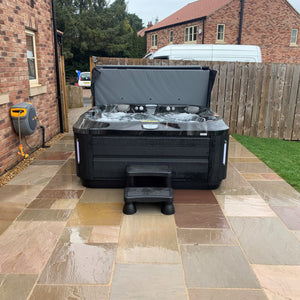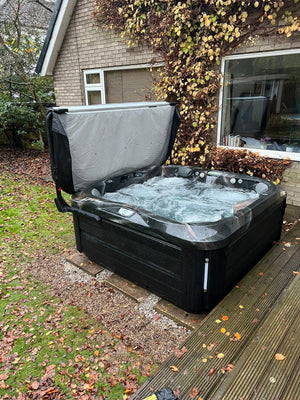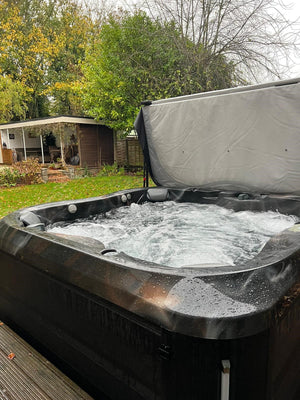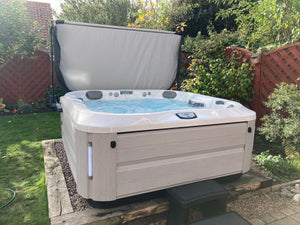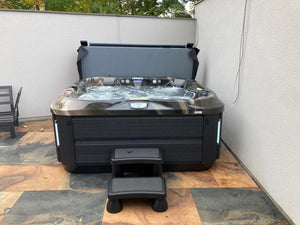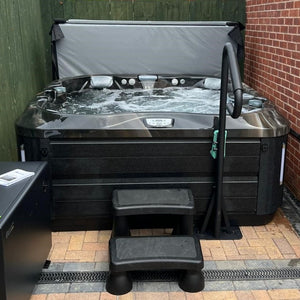 Jacuzzi® J335IP™ - 6 Person Hot Tub with 1 Lounger
Regular price
£10,999.00
Sale price
£11,999.00
Features we love 
WhatSpa Best Buy 2021, 2022 and 2023!
6-seater hot tub with an integrated lounger
42 powerful jets, and pillows for extra comfort
Bluetooth® speakers and Hydrosoothe™ massage pillow
4-stage filtration and ClearRay™ water purification
Easy to use advanced LED control panel
Tech spec
Seats 6 people with 1 lounger
4 pillows
213.5cm x 213.5cm x 92cm
42 PowerPro™ jets
Rainbow waterfall
3 pumps
23⁰C - 40⁰C
32 Amp power supply
Internal and external ProLite™ LED lighting
Illuminated cupholders
Bluetooth® stereo system
ClearRay™ water purification system
ProClarity® 4 stage filtration system
2 x ProClarity® 60 sq. ft. filter
Capacity: 1325 litres
Weight (full/empty): 2125/347 kg
ProFinish® cabinetry
SmartSeal™ insulation
Classic control panel
SmartTub™ system (optional upgrade)
Smart access door – easy access for servicing
All about me
The Jacuzzi® J300 range puts comfort at the forefront, bringing a new dimension of functionality and design. The J335IP™ features a variety of deep and shallow seats and an open-plan foot well, so it's especially suitable for families with younger children.
Luxurious hydromassage experience
42 specialist PowerPro™ jets provide targeted massage for your feet, calves, back and shoulders which is perfect for relieving any aches and pains after a long day. A Hydrosoothe™ massage pillow delivers a soothing head and neck massage with a cascade of water over the neck and shoulders without splashing or spraying. Adjust your massage and temperature preferences with the easy-to-use control panel.
Beautiful design
The luxurious ProFinish™ cabinetry design features corner lighting inspired by architecture for a striking, modern finish. The classic rainbow waterfall and premium adjustable LED lighting offer a unique chromotherapy experience, allowing you to set the ambience for any occasion.
Advanced & energy saving technology
The J335IP™ is compatible with the SmartTub™ system, the perfect way to control your hot tub remotely through an app. Innovative SmartSeal® insulation is an environmentally friendly solution to reduce energy use by 20% while protecting the tub from moisture, perfect for cold climates and saving you money. The ClearRay® and 4-stage filtration system creates superior water purity, reducing the need for you to buy water santisiers.
The J335IP™ is one of Outdoor Living's most popular hot tubs. Check out our reviews page for photos of J335IP™ installations and comments from our happy customers.
Finish
Shell
Cabinet
Modern Hardwood
Brushed Grey
Smoked Ebony
Videos
How do I order?
Click 'buy now' above or complete a finance form if required 
We'll call you back to arrange a site survey, which are usually by phone or video call
We'll organise a delivery and installation date
On your delivery date, we'll install your spa and get it ready to use, which usually takes around two hours
Or, if you visit one of our showrooms, we'll organise everything there and then.