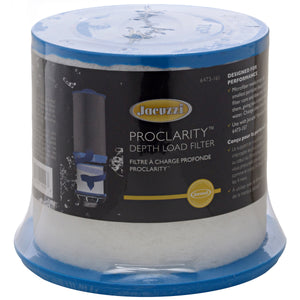 Jacuzzi® ProClarity™ J400/J500™ 2012+ Disposable Depth Load Hot Tub Filter - 6473-161
Features we love
Designed for performance
Disposable filter - replace every 3 to 4 months
For use inside the ProClarity™ system canister
Ultra-dense microfibre traps the smallest particles deep in the filter core
For clearer & safer water
Jacuzzi® premium quality you can trust 
All about me
With this hot tub filter no cleaning is required as it designed to be disposed of and replaced every 3 to 4 months.
Compatibility
Introduced in 2012 for the J400™ series spas and also used in the J575™ and J585™. 
Please note this is a OEM replacement part for the Jacuzzi filter 6473-161 and meets all design and specification requirements.
Part No.6473-161
FAQs
How does a hot tub filter work?
Water is pumped through the filter, and any debris gets caught in the filter's pleats. Hot tub filters work alongside chemicals and sanitisers to keep the hot tub water clean and healthy.
How often should I clean my hot tub filters?
We recommend rinsing your hot tub filters once a week and giving them a full clean with cleaning tablets or powder every 4-6 weeks. This will ensure dirt, debris and pollutants are cleared quickly and effectively and will extend the life of your filter. A clean hot tub filter gives you more accurate results when testing the chemicals, meaning you could save money.
If you need more advice on keeping your filters clean, read our how to clean your hot tub filters guide.