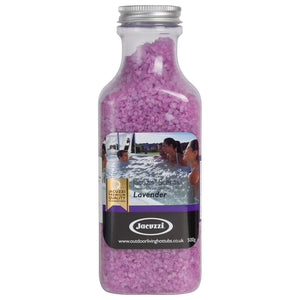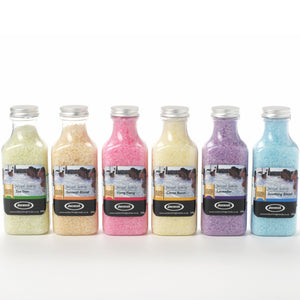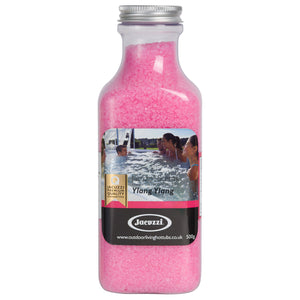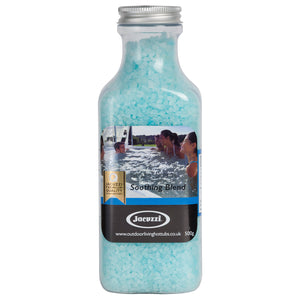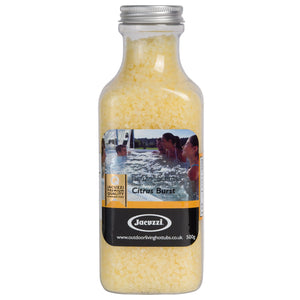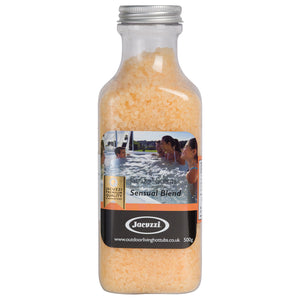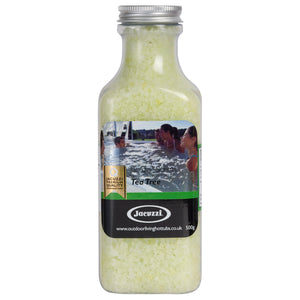 Jacuzzi® Hot Tub Scents Aromatherapy Salts
Features we love
Natural formula from salt crystals in essential oils 
6 scents to choose from that promote wellbeing 
Calms, soothes or refreshes your mind and body 
Tailor the strength of aroma to your preference 
Create your own spa in your back garden! 
Jacuzzi® premium quality you can trust
All about me
Jacuzzi aromatherapy scents are a luxurious addition to any hot tub experience. Made using natural salt crystals soaked in essential oils, these scents provide a soothing and relaxing atmosphere for you to enjoy. Each scent is sold individually in a 500g container, so you can choose the perfect aroma to create your desired strength of scent.
Our Jacuzzi scents come in a variety of options to promote your wellbeing. Choose from Ylang Ylang, which soothes and calms; Tea Tree, which invigorates and refreshes; Soothing Blend, which promotes relaxation; Sensual Blend, which invigorates and refreshes; Lavender, which calms and refreshes; and Citrus Burst, which invigorates and refreshes.
With hot tub scents you can create the perfect atmosphere for relaxation and stress relief. Simply choose your favorite scent, dissolve the crystals in your hot tub water, and lay back and enjoy the soothing effects. It's the perfect way to enhance your hot tub experience and create a spa-like atmosphere in the comfort of your own home. Experience the Jacuzzi® difference for yourself.
Scents
Your new favourite scent!
Ylang Ylang: Sooth and calm
Tea Tree: Invigorate and refresh
Soothing Blend: Relax
Sensual Blend: Invigorate and refresh
Lavender: Calms and refresh
Citrus Burst: Invigorates and refresh
Need to know
Sold in 500g containers. Select one of 6 scents.
How to use
We recommend pouring approx 100g per hot tub of Jacuzzi crystals while the jets are running to produce a standard aroma. The higher the quantity of salts, the stronger the scent. Then sit back, relax and let the crystals work their magic! 
FAQs
How do I choose aromatherapy without being able to smell them?
We have two showrooms, in Hull and Leeds that stock a range of aromatherapies for you to smell before you buy. We understand that many of our customers are based further afield and are only able to purchase from us online, so how do you know you will like the smell?
We suggest you start by deciding what you want to gain from using aromatherapy in your hot tub. Is it simply for relaxation, or do you want to help with your breathing, muscle soreness or stress levels? All our aromatherapies contain a description on how that scent will benefit your body and mind. Popular scents such as eucalyptus mint or lavender you will have most likely smelt before.
What are the benefits of aromatherapy in hot tubs?
Aromatherapy can enhance your hot tub experience in a range of ways including increasing relaxation, soothing muscles, reducing stress, masking the smell of chlorine, and helping to prevent dry skin after a soak. There are so many different options available, made specifically to target multiple needs of your mind and body. 

Find out more about hot tub aromatherapy benefits here.