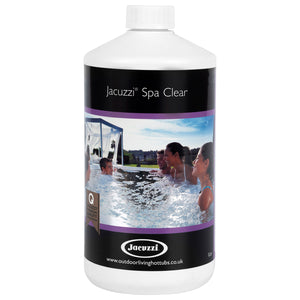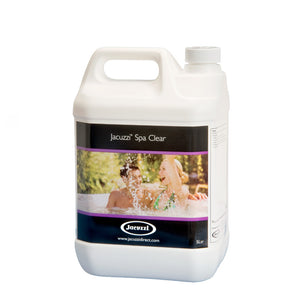 Jacuzzi® Hot Tub Spa Clear
Features we love
Clarifies hot tub & spa water 
Coagulates tiny particles too small for filters  
Prevents cloudy water
Use weekly for a crystal clear bathing experience 
Jacuzzi® premium quality you can trust
All about me
Jacuzzi® Spa Clear is a powerful clarifier that helps to keep your hot tub water crystal clear by coagulating tiny suspended particles that are too small for the filter to collect.
An essential product for maintaining the clarity of your hot tub water and preventing cloudy water. Experience the Jacuzzi® difference for yourself.
Need to know
Spa Clear is available in a 1L or 5L container, just select your required size. 
How to use
Add approx 20ml per 1500L of your tub's water with the pumps turned on and let it work its magic. You'll be left with a clear and clean spa that is ready for use. We recommended using spa clear on a weekly basis to maintain the clarity of your tub's water.
FAQs
How long should Jacuzzi® spa clear last?
A 1L bottle should last over 12 months in the average 1500L spa.
If you need more advice on keeping your tub sparkling fresh, read our guide on how to prevent cloudy water.