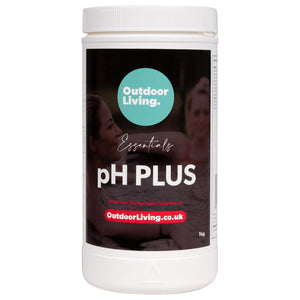 Hot Tub pH+ Increaser - 1kg | Outdoor Living
Features we love
pH increaser for hot tubs, swim spas and more
Balanced pH prevents scale forming and dull water 
Add straight to your tub for it to work right away
Contributes to keeping your spa in the best condition to prolong its lifespan 
Choose the size of tub that suits your needs 
All about me
Our Outdoor Living pH Increaser is used to increase the pH of spa water. Proper pH control of spa water is essential to eliminate problems caused by pH being too low or too high. If pH is too low then corrosian and staining may occur.
A balanced hot tub promotes bather comfort, optimum chemical efficiency and protection of hot tub equipment.
Need to know
Please note: A Ph level between 7.2 and 7.8 must be maintained in your hot tub. Test the pH of your hot tub water and if it is below 7.2 use pH+ (increaser) to raise it.
This product is supplied in 1kg.
How to use
Dissolve the product beforehand in a clean plastic container with warm water, add a maximum 10g per 1 litre. Ensure the product is fully dissolved by stirring well, then carefully add the solution to your tub while the pumps are turned on. Wait at least 30 minutes, then check the pH level and repeat if needed, until you reach a pH level of between 7.2 and 7.8.
FAQs
What happens if pH is too low in a hot tub?
7.2 or below indicates that your water is too acidic, which can cause itchiness and eye burn, and your sanitiser to be less effective. High acidity can result in costly damage to your hot tub parts too.
What happens if pH is too high in a hot tub?
7.8 or above, like high alkalinity, can contribute to scale build-up, foam and cloudy water.
How do I test pH levels in my hot tub?
We suggest using dip test strips to test the pH level, total alkalinity and sanitiser levels. They're easy to use and provide quick and accurate readings, so you can make the proper chemical adjustments if required.
How long do I have to wait after using pH in my hot tub?
We recommend waiting at least 2 hours after using pH balancer before using your hot tub.
If you need more information about managing your hot tub's water, check out our balancing your hot tub's pH level and total alkalinity guide.