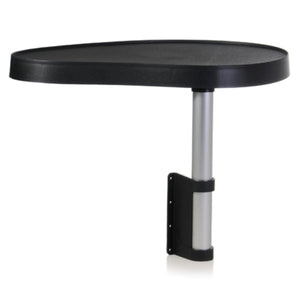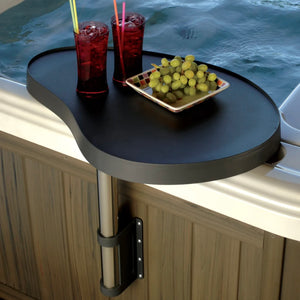 Features we love
Sturdy reinforced polymer tray on an aluminum post
Swivels toward and away from the spa for easy access
Uses one composite mounting bracket with eight screws
27" L x 19" W with a 2-inch diameter pole
Quickly mounts on almost any spa
All about me
Our Spa Caddy hot tub table can be fastened to the side of your spa and easily fitted and secured in place with screws. The handy design allows the table top to swivel into your hot tub, when in use, so items can be easily reached.
The spa caddy swivels to the outside of the hot tub so that your hot tub cover can still be easily fitted, protecting your tub when not in use.
Looking to create a luxurious hot tub experience? Find more tips in our accessory ideas for your spa set up blog post.  
How to install
Choose a mounting location on any side of the spa
Position of the Mounting Bracket should be near the top of the spa skirt to allow the tray to clear the spa by approximately 1"
Mount the bracket to the spa skirt using the #12 screws provided. Pre-drilling the screw holes is recommended, however, DO NOT drill completely through the spa skirt
Insert the tube into the underside of the tray, pushing it in as far as possible