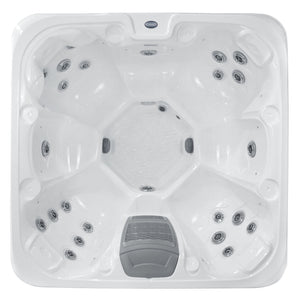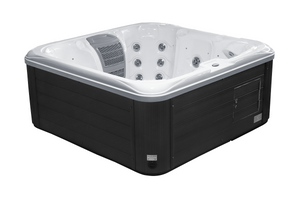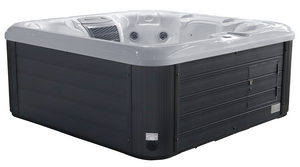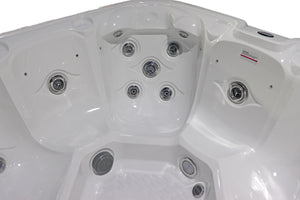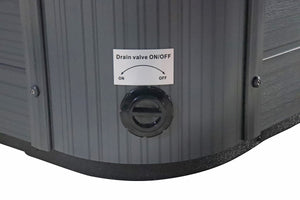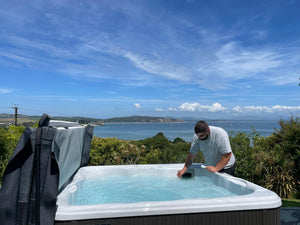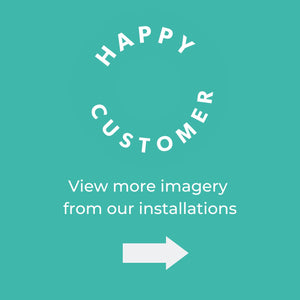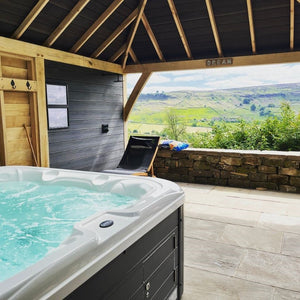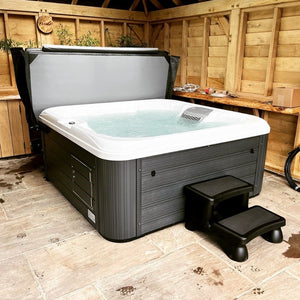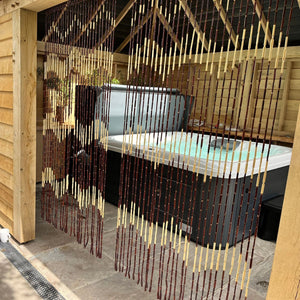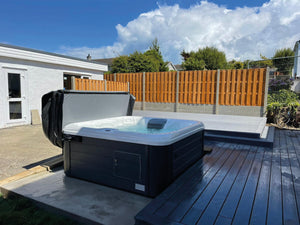 Vacation Social - 7 Person Hot Tub
Features we love
Low maintenance commercial tub designed for heavy usage
7-seater hot tub with 25 jets
User friendly and tamper-proof Gecko control panel
Minimalistic design with no breakable or removable components
LED lighting options & optional Wi-Fi control
Ozone water purification system & in-line chemical dosing for clean water
Easy fast drain water changes between guests saving you time
Tech spec
Seats 7 people
200cm x 200cm x 85cm
Suitable for guests up to 6'8"
25 Jets for hydrotherapy
1 x 3 HP pump
13/32 Amp Power Supply
3kW Heater
Multi-coloured Internal LED Lighting
Ozone water clarifying system
In-line chemical dosing system hidden within the cabinet
Fast drain with 2 inch valve saves time between guests
Water capacity 1250L 
Weight empty 460KG
Optional Wi-Fi app-based remote control
Tamper-proof Gecko control panel
No breakable parts like headrests, waterfalls or diverters
High density R-10 insulation
Insulated cover
HSG 282 Compliant
All about me
Pampering without the fuss
Step into the world of hassle-free comfort with a Vacation hot tub tailor-made for commercial spaces. Whether you're managing a holiday cottage, a cosy AirBnB, or a bustling hotel, this straightforward hot tub is designed for luxury without the maintenance. With a robust and simplified build, it's suitable for heavy use with minimal stress. 
This tub's finish will blend into to your terrace, garden or outdoor space. A 2 inch drain valve allows for quick and easy water changes between guests, saving you time. Plus, you can opt for our Wi-Fi module to access settings directly from your phone.
Designed for you, built for everyone
Get ready for the ultimate relaxation experience that's a breeze to manage. Tamper-proof controls keep things simple, with a user-friendly Gecko control panel. Guests can only access the jets and lights button on the topside, saving you time and money.
The Vacation Social hot tub has no removable parts, or fragile components - such as headrests, diverters and waterfalls. Seating up to 7 people, this hot tub is perfect for larger groups, there's plenty of space for families and groups of friends. Let your guests soak, unwind, and let their worries float away.
Elevate your holiday let with affordable luxury
Take your holiday park or glamping site to the next level without breaking the bank. This hot tub boasts 40 jets for hydrotherapy and that "ahh" factor, and throws in some soft LED lighting – all the ingredients for happy guests! You could also opt for the Vacation Lounge in the range that boasts a lounge seat for extra comfort. 
Premium insulation keeps your running costs to a minimum. It's not just about luxury; it's about value for money - hot tubs can increase your revenue by up to 60%. Your guests will love it, and so will your bottom line.
Finish
Shell
Pure White
Cabinet
Grey
FAQs
What is HSG282? 
HSG282 is a series of guidelines for owners of commercial pools, hot tubs and swim spas, as a benchmark for best practise, in order to manage the potential hazards from pathogens, like Legionella and other contagious agents. Although HSG282 isn't legally binding, it would be used in a court of law to measure whether you have complied with Health & Safety regulations. 
What HSG282 guidelines to I need to be aware of for commercial hot tubs?
Continuous Bromine Cleaning: Your hot tub must have a steady supply of bromine directly into the water, maintaining its cleanliness even as your guests soak. 
Rethink Headrests: While pillows might seem like a cosy addition to your spa, they're a breeding ground for bacteria and are often damaged by customers.
250L of Water per Bather: No less than 250 litres of water per guest is recommended. This makes sure that the hot tub doesn't exceed its safe capacity, in order to maintain acceptable water quality.
Constant Filtration: 24 filtration systems are required to maintain water clarity and remove debris 
Water Testing Records: Keep a note of test frequency, regime and actions to correct water chemistry