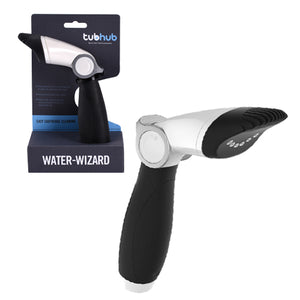 tubhub Water Wizard Comb for Hot Tub Filters
Features we love
Sprays and combs deep into hot tub filters
Speeds up the tedious task of thorough cleaning 
Cleans both sides of filter pleats in one downward stroke
Improves the efficiency of your filters
Ergonomic design for comfort while you clean 
Minimises water loss with no messy back spray
Durable and built to last 
Easily attaches to standard hose connectors 
All about me
The Water Wizard comb is a must-have tool for any hot tub owner. This clever tool easily attaches to any standard hose connector, allowing you to effortlessly spray and comb deep into the pleats of your hot tub filter. This ensures that your filter is thoroughly cleaned, which is essential for maintaining the health and cleanliness of your hot tub.
tubhub's hot tub comb is made with durable materials and is designed to last, so you can use it again and again to keep your hot tub filter clean. Not only that, its ergonomic design makes it comfortable and easy to use, so you can get the job done quickly and efficiently.
How to use
Remove the filter cartridge from your hot tub
Attach the Water Wizard to your hose connector
Flick the switch to turn on the water supply
Comb into filter pleats in one downward stroke
FAQs
How often should I clean my hot tub filters?
We recommend cleaning your hot tub filters once a week. This will ensure dirt, debris and pollutants are cleared quickly and effectively and will extend the life of your filter. A clean hot tub filter gives you more accurate results when testing the chemicals, meaning you could save money.
If you need more advice on keeping your filters clean, read our how to clean your hot tub filters guide.