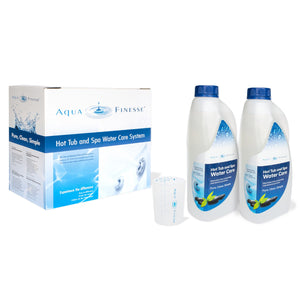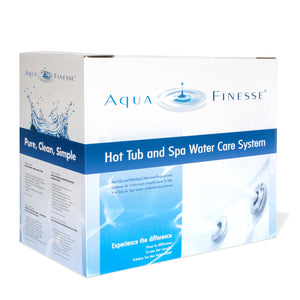 AquaFinesse Hot Tub Water Care System with Moisturiser Pack - Concentrate
Features we love
All-in-one sanitising system for your hot tub or spa
Unique patented AquaFinesse® liquid that's kinder to sensitive skins, moisturising and reduces the amount of sanitiser needed 
Environmentally friendly solution
Chlorine concentrate kill bacteria
Easy to use on a weekly basis
Keeps your spa clean and clear as well as preventing build-up in pipes
Protects you, your spa and the environment
All about me
The Aquafinesse Hot Tub Water Care System with Moisturiser Pack is a unique, patented formula that provides effective sanitisation for hot tubs while also adding a moisturiser for sensitive skin.

The all-in-one formula also contains a pipe cleaner to prevent calcium build up, making it easy to maintain your hot tub's cleanliness. The weekly treatment is simple to use and each pack comes with 2x 2L all-in-one bottles and a 500g bottle of chlorine concentrate, as recommended for Jacuzzi hot tubs.
This pack is ideal for those with sensitive skin who want to enjoy the benefits of a hot tub without irritation. With Aquafinesse, you can have clean, moisturised water in your hot tub every week.
Need to know
Each pack contains:
2 x 2L bottles all in one
500g bottle chlorine concentrate (as recommended for Jacuzzi Hot tubs)

Please note: Chlorine tablets are not included with this product as they are not recommended by Jacuzzi®, and can void some warranty in hot tubs.
How to use
Use one dose of AquaFinesse per week alongside a slow release sanitiser.
1. Shake the bottle of AquaFinesse before use.
2. Add the prescribed amount to the spa water using the measuring cup (for the correct dosage see the label on the back of the bottle).
3. Add one level spoon (provided) of sanitising granules to the water, after each spa use. When spa is not in use, add a minimum of one spoon weekly.
4. Open all valves and jets. Allow the pumps to run at full power for approx. one minute.
5. Rinse the filters with clean water, or clean them with AquaFinesse Filter Cleaner tablets.
FAQs
Who are AquaFinesse?
After years of study and the perusal of scientific reports on the causes of water pollution, the researchers of Special Water (AquaFinesse) in the Netherlands established as early as 2004 that the real cause of bacterial contamination stems from the bacterial nursery. We call this a biofilm. This discovery was revolutionary at that time because the role of biofilm was not clear until then.
How long will AquaFinesse last?
AquaFinesse will last between 3 to 6 months depending on the size of your hot tub or spa. 
If you need more information on using chemicals in your tub, check out our hot tub chemicals guide.