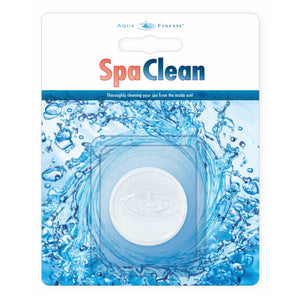 AquaFinesse Hot Tub No Scale SpaClean Tablet
Features we love
Powerful treatment for a deep clean 
Removes stubborn scale, slime and dirt in hot tubs & spas
Environmentally friendly formula 
Use when you change your spa's water every 3 months 
Protects you, your tub and the environment 
All about me
Aquafinesse Hot Tub No Scale SpaClean is a powerful cleaning product that effectively removes stubborn scale and other buildup in hot tubs. 
Aquafinesse SpaClean is easy to use, simply add it to your hot tub water and let it work its magic. You'll be left with a clean and fresh hot tub that is ready for use. An essential product for maintaining the cleanliness and longevity of your hot tub.
How to use
This spa cleaner is recommended for use whenever you change your spa's water, usually every 3 months.
1.  Remove the filter from the spa and make sure that all jets and air valves are open to get the best water flow.
Optional: If you have chlorine granular you can raise the chlorine level to 3-5 ppm before step 2.
This is recommended when the spa is heavily soiled
2. Dissolve the AquaFinesse SpaClean tablet in a bucket of lukewarm water (from the spa) before adding it to the spa water.
3. Activate pumps on full power for 20 minutes to allow a good flow *
Repeat the pump activation for at least 2- 3 times during the next 6-12 hours.
(Depending on the severity of the problem)
4. End the treatment with one more activation of the pumps and then empty the spa.
Rinse the spa with fresh water. (do not use any other cleaner)
5. Put the filter back in the spa and you are ready to resume or start maintenance with the AquaFinesse hot tub water treatment
If you need more information on using chemicals in your tub, check out our hot tub chemicals guide. 
FAQs
Who are AquaFinesse?
After years of study and the perusal of scientific reports on the causes of water pollution, the researchers of Special Water (AquaFinesse) in the Netherlands established as early as 2004 that the real cause of bacterial contamination stems from the bacterial nursery. We call this a biofilm. This discovery was revolutionary at that time because the role of biofilm was not clear until then.