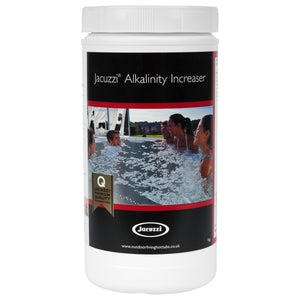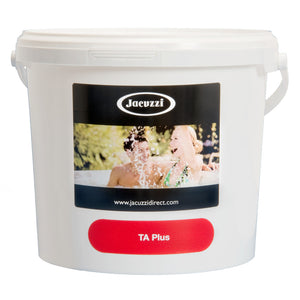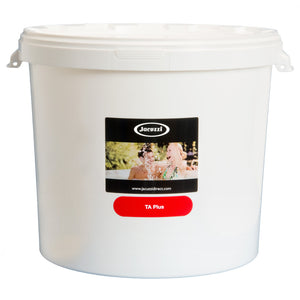 Jacuzzi® Hot Tub Total Alkalinity Increaser
Features we love
Alkalinity Increaser for hot tubs, spas and more
Helps prevent damage to your hot tub or spa
Balanced Total Alkalinity helps control the pH level
Add straight to your tub for it to work right away
Contributes to keeping your spa in the best condition
Jacuzzi® premium quality you can trust
All about me
This Jacuzzi® Alkalinity Increaser raises the Total Alkalinity levels in your hot tub or spa and works alongside the pH and helps to protect it. Low Total Alkalinity (below 80mg/l) can cause your water to become corrosive and stain your hot tub or spa surfaces. Plus, it can cause pH levels to fluctuate, which can cause discomfort to your skin.
In soft water areas, where pH levels are lower, using an alkalinity increaser first helps raise the pH level. Experience the Jacuzzi® difference for yourself.
Need to know
Pack size: 1kg, 5kg, 10kg
Use: Daily


How to use
Ensure any bathers are out of the hot tub or spa
Test your water using a testing kit to determine if the Total Alkalinity level is above 80ppm
If not, add as per the dose on the pack according to what you need with the pump turned on this will allow it to circulate evenly.
Leave for 10 minutes (so the chemicals can work) then retest
If not within the desired range, raise in 10mg/l ppm increments and repeat until correct
Use daily. A Total Alkalinity level between 80-120mg/l (ppm) must be maintained in your hot tub/spa at all times. The addition of your Alkalinity Increaser will depend upon usage*.
*We advise to use test strips to test sanitiser levels, pH levels and Total Alkalinity (TA).
FAQs
How do I test TA levels in my hot tub?
We suggest using dip test strips to test the pH level, total alkalinity and sanitiser levels. They're easy to use and provide quick and accurate readings, so you can make the proper chemical adjustments if required.
How long do I have to wait after using total alkalinity in my hot tub?
We recommend waiting at least 2 hours after using TA before using your hot tub.
If you need more information about managing your hot tub's water, check out our balancing your hot tub's pH level and total alkalinity guide.