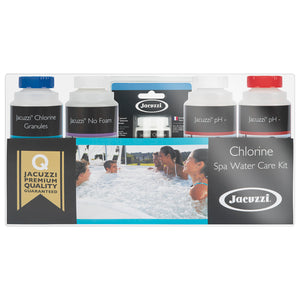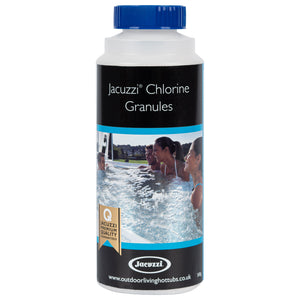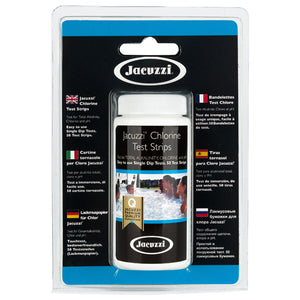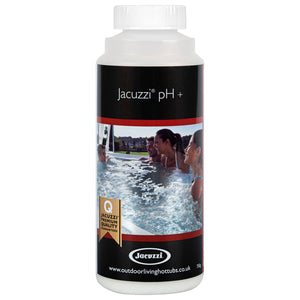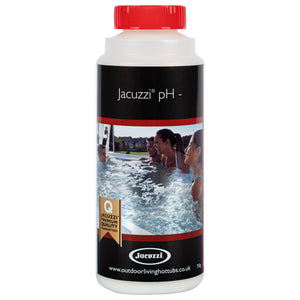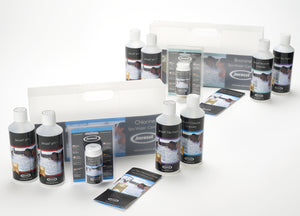 Jacuzzi® Hot Tub Chlorine Starter Kit
Regular price
£29.99
Sale price
£39.99
Features we love
All in one chemical starter kit for hot tubs and swim spas
Contains all you need for crystal clear water 
Powerful chlorine sanitiser kills off bacteria, pH balancers prevents scale forming and dull water, anti foam eliminates suds caused by soaps and detergents
Water test strips to check chemical levels
How to guide with tips and tricks
Add straight to your tub for it to work right away
Jacuzzi® premium quality you can trust
All about me
Our Jacuzzi® Hot Tub Chlorine Starter Kit has you need to get your hot tub up and running in no time! This chemical kit includes 500g of pH minus, 500g of pH plus, 500ml of antifoam, water test strips, 500g of chlorine concentrate and a chemicals hot tub guide.
All-in-one starter kits make it easy to maintain crystal clear water in your hot tub. The pH minus and pH plus help you to balance the pH levels, antifoam prevents bubbles and foam from forming on the surface, water test strips make it easy to monitor chemical levels, while chlorine concentrate is a powerful and effective sanitiser to get rid of bacteria.
The guide provides valuable info on how to properly use and maintain your hot tub, including tips on how to keep your water clean and clear.
Don't let the hassle of setting up and maintaining your hot tub water keep you from enjoying all the benefits of your hot tub! Experience the Jacuzzi® difference for yourself.
Need to know 
500g pH minus
500g pH plus
500 ml Antifoam
Water test strips
500g Chlorine concentrate granules
Chemicals hot tub guide
How to use
A chlorine level between 3-5mg/l must be maintained in your hot tub/spa at all times. The addition of your chlorine granules will depend upon usage*; it could be daily or every 2-3 days. For 1mg/l, add 2g per 1000 litres. Top tip: 10ml = approximately 10g
We advise to use test strips to test sanitiser levels, pH levels and Total Alkalinity (TA).
FAQs
Which hot tub sanitiser is right for me?
A sanitiser is a chemical which is used to kill bacteria in your spa water.
There are three types of sanitiser -
How soon can I use my hot tub after adding chemicals?
Once you've added chemicals to your hot tub, we advise that you wait for at least 20 to 30 minutes before testing the water again. If the levels are balanced, you can take a dip.
If levels are showing as too high or too low, it could take up to 24 hours for the balance to adjust. Be sure to test the water each time and refer to the chemical's instructions for use.
How often should I test my hot tub water?
We recommend you test your hot tub water daily whether your spa is in use or not.
What should hot tub water be tested for?
Test your hot tub's water for sanitiser levels - whether that's chlorine, bromine or oxygen - along with pH and total alkalinity. This then allows you to make any chemical adjustments that may be required.
Still undecided on what sanitiser is right for your hot tub? Take a look at our chemical guide for more information.

For more advice on maintaining your tub using our chlorine granules, discover our handy chlorine maintenance guide here.