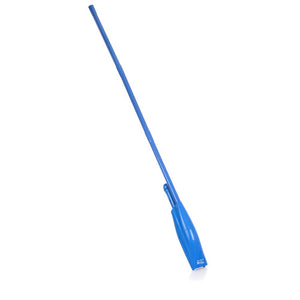 Pool Blaster Cordless Hot Tub Spa Vacuum
Features we love
Filters out sand and traps dirt
Sectional pool pole for extended reach
Gets into the bottom of your hot tub
Handheld and lightweight at 0.7lbs
Easy to use with no cords
1.5 hours of battery life
All about me
Welcome to the world of hassle-free hot tub maintenance! Our cordless spa vacuum is here to make your life easier and your hot tub water crystal clear.
The Pool Blaster Spa Vacuum removes even the smallest dirt and debris from your hot tub water. Its micro-filtering technology traps dirt better than any other spa vacuum on the market, to keep your water clean and clear. With its easy-to-use battery-powered design, you don't need to worry about cords or outlets (powered by four C cell batteries - not included). Enjoy crystal clear water with out the fuss!
How to use
Powered by four C cell batteries (not included). Simply twist the switch on to operate. No plugs or water hook-up required. 
FAQs
How often should I clean my hot tub? 
Each part of your hot tub needs a good clean at different intervals. It all comes down to how often you use your spa, water care products, and maintenance routine. As a rough rule of thumb, we recommend cleaning the following parts:
After each use:
Wipe the shell to remove water lines using a clean damp cloth. Or, for stubborn marks, try our tub scrubber
Weekly
Clean the filter
Check and rebalance the pH and sanitiser levels
Shock dose the water
Quarterly
Clean your pipes with a pipe cleaner
Drain and refill your hot tub
Clean the interior shell
Annually
If you need more advice on keeping your spa spotless, read our hot tub cleaning guide.