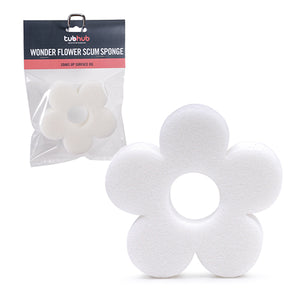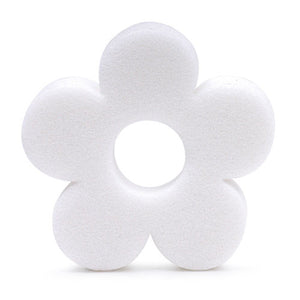 tubhub Wonder Flower Hot Tub Scum Sponge
Features we love
Absorbs up to 40 times its weight - that's flower power! 
Soaks up oils, lotions and grease while you soak
Reduces foamy water and scum lines
Prolongs the life of your tub or pool's filters 
Simply chuck it in your hot tub and let it work its magic 
Clean with detergent then rinse and it's ready to be used again… WONDERful
All about me
tubhub's Wonder Flower Hot Tub Scum Sponge is an easy way to keep your spa water clean and clear. Its foam design absorbs up to 40 times its weight in oils and lotions. Simply place it in your spa's water to keep it free of any nasties.
Our floating sponge also helps to prolong the life of your filter. By absorbing oils, the scum sponge reduces the amount of work that your filter has to do, to keep it lasting longer and working more efficiently. Our flower floater is easy to remove and dispose of when it's full, so you can quickly and easily keep your hot tub water clean and fresh… that's flower power! 
How to use
Use as and when you need it. Place into your hot tub or skimmer, then once the sponge is full, remove and clean with detergent. Give the sponge a rinse and it's ready to be used again! 
FAQs
How often should I clean my hot tub? 
Each part of your hot tub needs a good clean at different intervals. It all comes down to how often you use your spa, water care products, and maintenance routine. As a rough rule of thumb, we recommend cleaning the following parts:
After each use:
Wipe the shell to remove water lines using a clean damp cloth. Or, for stubborn marks, try our tub scrubber
Weekly
Clean the filter
Check and rebalance the pH and sanitiser levels
Shock dose the water
Quarterly
Clean your pipes with a pipe cleaner
Drain and refill your hot tub
Clean the interior shell
Annually
If you need more advice on keeping your spa spotless, read our hot tub cleaning guide.