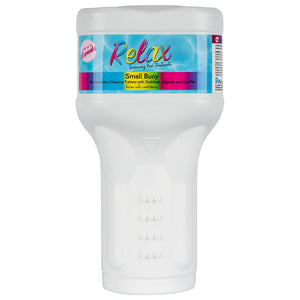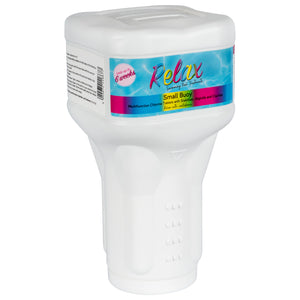 Relax Small Buoy Swim Spa/Pool Floating Chlorine Dispenser - 1kg
All about me
The Relax Small Buoy Chlorine Dispenser is a convenient and easy-to-use solution for maintaining proper chlorine levels in your swim spa or swimming pool. Its compact size allows it to be easily placed in the centre of the water, while the chlorine tablets inside are formulated with stabiliser, algicide, and clarifier to help keep your water clean and clear.
The Buoy will last for up to 6 weeks before needing to be replaced. When the chlorine has been depleted, the Buoy will float on its side to signal that it's time for a new one. With the Small Buoy, you can enjoy crystal clear water all season long without the hassle of constantly measuring and adding chemicals. This tablet dispenser is the perfect choice for anyone looking for an easy and effective way to maintain the cleanliness and clarity of their swimming pool or swim spa. Let your worries float away…
How to use
Place the buoy in your hot tub or swim spa, and remove the correct number of notches based on the size of your pool or spa.
FAQs
What is a floating dispenser?
A floating dispenser or feeder gradually releases sanitiser from chemical tablets in your hot tub, swim spa or pool. They're ideal for chlorine and bromine tablets. 
Are floating chlorine dispensers any good?
Use floating chemical dispensers for slow release and safe dissolving in your hot tub of chlorine, bromine or oxygen. Hot tub tablet dispensers take the hassle out of chemical dosing to spas on a regular basis.
How soon can I use my pool after adding chemicals?
Once you've added chemicals to your swimming pool, we advise that you wait for at least 20 to 30 minutes before testing the water again. If the levels are balanced, you can take a dip.
If levels are showing as too high or too low, it could take up to 24 hours for the balance to adjust. Be sure to test the water each time and refer to the chemical's instructions for use.
How often should I test my pool's water?
We recommend you test your pool's water daily whether your swimming pool is in use or not.
What should pool water be tested for?
Test your swimming pool's water for sanitiser levels - along with pH and total alkalinity. This then allows you to make any chemical adjustments that may be required.
For more advice on maintaining your pool using our chlorine tablets, discover our handy chlorine maintenance guide here.