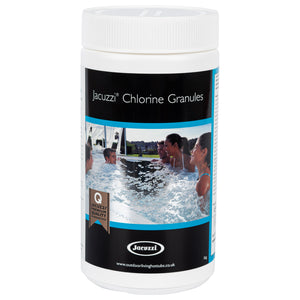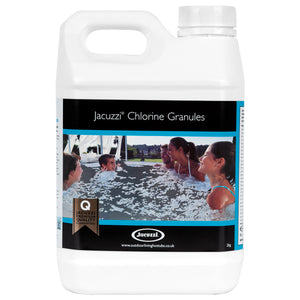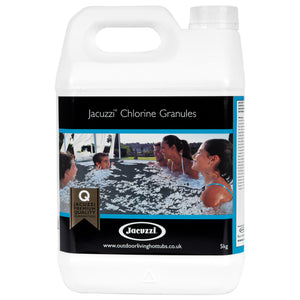 Jacuzzi® Hot Tub Chlorine Granules
Features we love
Top grade chlorine granules for hot tubs, spas and more
Keeps your spa in the best condition all year round
Can used daily to keep water crystal clear and clean or as a shock dose
Super easy to use as they dissolve rapidly and evenly
Kills unwanted bacteria and controls algae
Jacuzzi® premium quality you can trust
All about me
Jacuzzi Hot Tub Chlorine Granules are a powerful sanitiser that disinfects hot tubs. This is top grade chlorine, suitable for spas or pools. Tested and recommended by Jacuzzi® to ensure you get a quality product at the best possible price. The most well known and cheapest way to sanitise your hot tub.
If you're looking to quickly and easily sanitise your hot tub water, chlorine granules are a great option. Chlorine granules dissolve quickly and are relatively pH neutral, making them perfect for shock-dosing your hot tub when you first set it up or if it hasn't been used in a while. Not only that, granules are also effective at raising chlorine levels in your hot tub water faster than tablets. Experience the Jacuzzi® difference for yourself.
How to use
Aim to maintain a chlorine level of 3 to 5mg/l at all times. How frequently you add more chlorine will depend on your usage and bathing habits. It could be daily, every two to three days or weekly. For 1mg/l, add 2g per 1000 litres.
Top tip: 10ml = approximately 10g
*We advise to use test strips to test sanitiser levels, pH levels and Total Alkalinity (TA).
FAQs
What is chlorine?
When you dissolve hot tub chlorine in water, it creates hypochlorous acid. This acid destroys waterborne bacteria on contact but deactivates over time. For this reason, you must regularly monitor your hot tub's chemical levels.
Still undecided on what sanitiser is right for your hot tub? Take a look at our chemical guide for more information.
For more advice on maintaining your tub using our chlorine granules, discover our handy chlorine maintenance guide here.