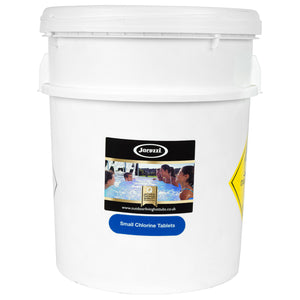 Jacuzzi® Pool Small Chlorine Tablets - 25kg
Features we love
Top grade chlorine tablets for swimming pools
Keeps your pool in the best condition all year round
Super easy to use as they dissolve slowly and safely
Kills unwanted bacteria and controls algae
Jacuzzi® premium quality you can trust
All about me
Looking for a reliable and effective way to sanitise your pool, hot tub, or spa? Our Jacuzzi pool chlorine tablets are here to help!
These tablets are specifically designed for use with a floating dispenser, making it easy to slowly and safely release chlorine into your water. The 25kg pack is perfect for commercial use, ensuring that you have plenty of tablets to last for multiple maintenance sessions.
We only sell chlorine tablets of the highest quality, which means you will need to use less to get the same level of sanitisation as a lot of cheaper and inferior chlorine products. By using our Jacuzzi pool chlorine tablets regularly, you can help to kill bacteria, so your pool is always clean and ready for use. Experience the Jacuzzi® difference for yourself.
Need to know
Please note: Designed for commercial use and not recommended for Jacuzzi® domestic hot tubs and several other makes of hot tub, as overuse can result in damage to your spa. If in doubt about their usage, get in touch.
How to use
Place a tablet in your chlorine floating dispenser and let them work their magic. Test the chlorine levels and a daily basis and adjust chemical levels as needed.*
Aim to maintain a chlorine level of 3 to 5mg/l at all times. How frequently you add more chlorine will depend on your usage and bathing habits. It could be daily, every two to three days or weekly. For 1mg/l, add 2g per 1000 litres. Top tip: 10ml = approximately 10g
*We advise to use test strips to test sanitiser levels, pH levels and Total Alkalinity (TA).
FAQs
What is chlorine?
When you dissolve chlorine in water, it creates hypochlorous acid. This acid destroys waterborne bacteria on contact but deactivates over time. For this reason, you must regularly monitor your pool's chemical levels.
How soon can I use my pool after adding chemicals?
Once you've added chemicals to your swimming pool, we advise that you wait for at least 20 to 30 minutes before testing the water again. If the levels are balanced, you can take a dip.
If levels are showing as too high or too low, it could take up to 24 hours for the balance to adjust. Be sure to test the water each time and refer to the chemical's instructions for use.
How often should I test my pool's water?
We recommend you test your pool's water daily whether your swimming pool is in use or not.
What should pool water be tested for?
Test your swimming pool's water for sanitiser levels - along with pH and total alkalinity. This then allows you to make any chemical adjustments that may be required.
For more advice on maintaining your pool using our chlorine tablets, discover our handy chlorine maintenance guide here.