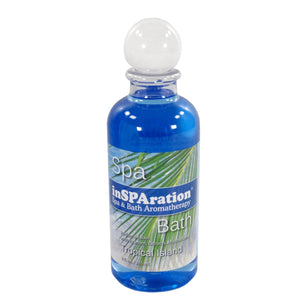 InSPAration Hot Tub Scents Aromatherapy Liquid | Tropical Island
Features we love
Specifically formulated for use in hot tubs, spas, and jetted baths 
Contains a blend of vitamins, minerals, natural extracts, and skin-softening emollients
Tropical Island floral scent to transport you back on holiday 
Convenient lid can also be used as a measuring cap
Safe for all filters, jets, motors, pumps, and surfaces
Doesn't affect water chemistry
Effective for masking odours
Compatible with chemicals such as bromine and chlorine
All about me
Transport yourself to a tropical island without leaving your garden! InSPAration Spa aromatherapy is a luxurious and therapeutic product that is perfect for enhancing the experience of using a spa, hot tub, or whirlpool bath. The blend of aromatherapy fragrances is ready to use and specially formulated for these relaxing environments, and the addition of vitamins and natural extracts leaves your skin feeling soft and moisturised.
Our aromatherapy fragrance is water-soluble, so it won't leave any greasy residue or cause any staining. It's also safe to use with any type of spa material, including wood, fiberglass, acrylics, and plaster, and it won't clog filters or affect water chemistry. With InSPAration Spa aromatherapy, you can enjoy all the benefits of a relaxing and invigorating spa experience, without any of the drawbacks.
Need to know
250ml bottle 
How to use
Add 1-3 capfuls of liquid, depending on the size of your spa and desired level of scent. The more liquid you add to your tub, the stronger the aroma.
FAQs
How do I choose aromatherapy without being able to smell them?
We have two showrooms, in Hull and Leeds that stock a range of aromatherapies for you to smell before you buy. We understand that many of our customers are based further afield and are only able to purchase from us online, so how do you know you will like the smell?
We suggest you start by deciding what you want to gain from using aromatherapy in your hot tub. Is it simply for relaxation, or do you want to help with your breathing, muscle soreness or stress levels? All our aromatherapies contain a description on how that scent will benefit your body and mind. Popular scents such as eucalyptus mint or lavender you will have most likely smelt before.
What are the benefits of aromatherapy in hot tubs?
Aromatherapy can enhance your hot tub experience in a range of ways including increasing relaxation, soothing muscles, reducing stress, masking the smell of chlorine, and helping to prevent dry skin after a soak. There are so many different options available, made specifically to target multiple needs of your mind and body. 

Find out more about hot tub aromatherapy benefits here.