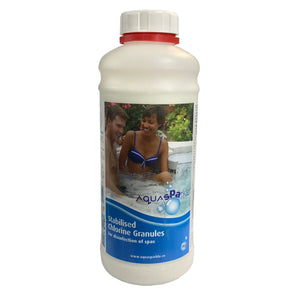 AquaSPArkle Hot Tub Chlorine Granules - 1kg
All about me
Looking for a fast and effective way to keep your hot tub water clean and safe? Look no further than our AquaSPAkle chlorine granules!
These granules are specially formulated for daily dosing in spas and hot tubs by producing free active chlorine which kills bacteria. They dissolve quickly and have minimal impact on pH, making them easy to use and gentle on your hot tub's water chemistry.
By using chlorine granules regularly, you can enjoy peace of mind knowing that your hot tub water is clean and safe.
How to use
Aim to maintain a chlorine level of 3 to 5mg/l at all times. How frequently you add more chlorine will depend on your usage and bathing habits. It could be daily, every two to three days or weekly. For 1mg/l, add 2g per 1000 litres. Top tip: 10ml = approximately 10g
*We advise to use test strips to test sanitiser levels, pH levels and Total Alkalinity (TA).
FAQs
What is chlorine?
When you dissolve hot tub chlorine in water, it creates hypochlorous acid. This acid destroys waterborne bacteria on contact but deactivates over time. For this reason, you must regularly monitor your hot tub's chemical levels.
Still undecided on what sanitiser is right for your hot tub? Take a look at our chemical guide for more information.

For more advice on maintaining your tub using our chlorine granules, discover our handy chlorine maintenance guide here.