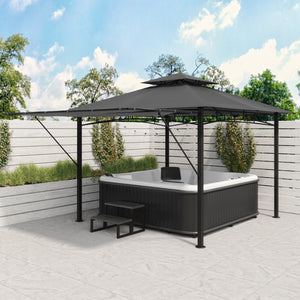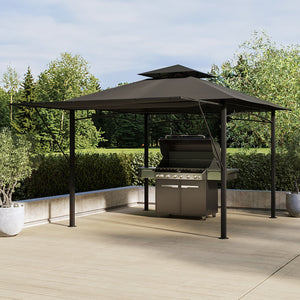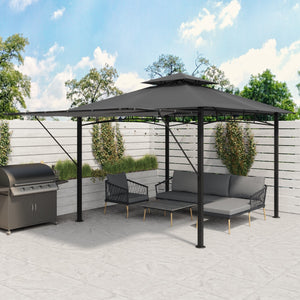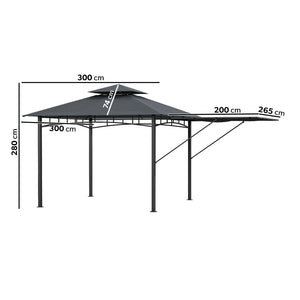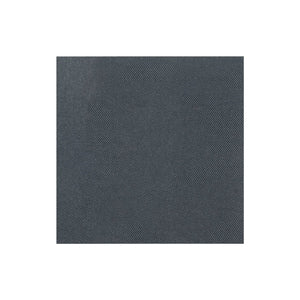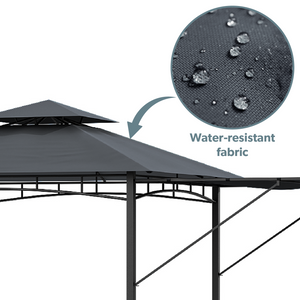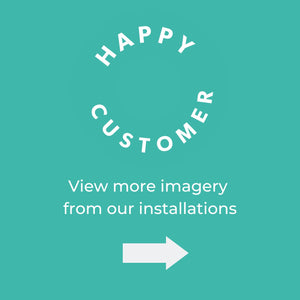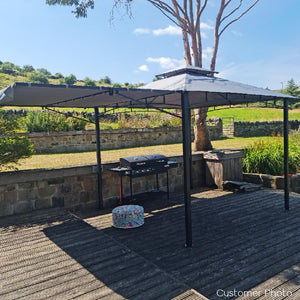 Fortrose 3x3m Black Metal BBQ Shelter Gazebo with Grey Canopy Roof and Retractable Side
Tech spec
Sturdy gazebo with retractable side panel
Enjoy a BBQ underneath thanks to the double-tiered, ventilated and fire-retardant roof
Easy to use retractable mechanism lets you lower or raise the side panel for extra shade and protection
Durable dark grey canopy fabric in 180g thick polyester
Water resistant roof to protect against showers
Easy to set up in less than an hour and simple dismantling for storage in winter
Black powder-coated metal steel frame for maximum stability

W300 x D300 x H260 cm
All about me
Tentertain - come rain or shine! Enhance your summer garden experience with our premium open-frame gazebo. It offers plenty of shade from the sun and includes a retractable side for wind and shower protection. The open sides, ventilated roof, and fire-retardant fabric allow you to BBQ safely inside your gazebo. The frame is made of high-grade powder-coated steel for rust resistance and extra durability.
Fixing the gazebo down is quick and easy, simply put the pegs through the pre-drilled holes in the feet and push them into soft ground. The structure can also be secured into hard ground such as concrete or decking, additional bolts will be required.
Enhance the life of your garden furniture: To extend the life of your gazebo, we recommend storing it inside during the winter months. (This could be in a shed/outbuilding or in a dry cellar.) A gazebo is a seasonal item and not an all-year-round permanent structure.

FAQs
Should I put a gazebo over my hot tub?
Gazebos create privacy from nosy neighbours while you soak in your hot tub! Not only that, they protect your spa from wind, rain and direct sunlight, securing your investment for years to come. 
What can I use as a shelter for my hot tub?
Wooden gazebos are an ideal choice for a hot tub shelter. They blend in seamlessly into your garden and allow for an open feel while protecting from the elements. Gazebos will enhance your relaxation experience in your own hot tub haven! 
Should a hot tub be in sun or shade?
Continuous exposure to the sun can damage your spa's appearance over time. Gazebos give you flexibility in placing a hot tub in your garden. If you don't have many natural shady spots, choose a hot tub shelter to protect your tub and your family from direct sunlight.